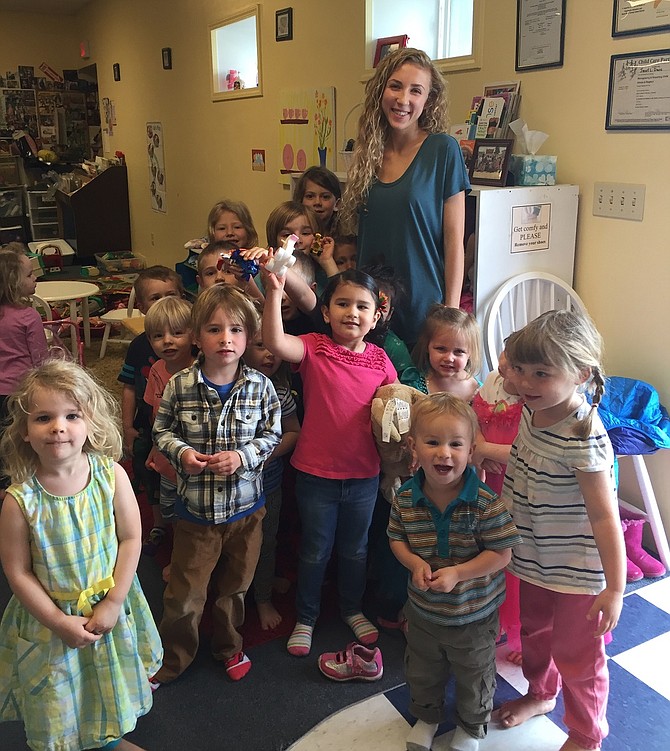 Julia Skwarczynski knows a lot of languages.
Besides English, the Hood River Valley High School student — who will be a senior next year — speaks French, Spanish and Polish (her native language), is learning German, and this year began Russian lessons as well.
For her Extended Application (EA) project this spring, she decided to take her love of language and translate that into a community service project for preschool students.
She taught three languages — French, German and Spanish — over the course of three weeks at three local preschools: Little Learner's, taught by Angela Klein (and located on the HRVHS campus), Our Children's Place, taught by Janet Davis, and Smart-E Pants, taught by Andrea Duckwall.
"I chose this as my EA project because I'm really passionate about languages and I wanted to create a project that could incorporate that while giving back to the community," Skwarczynski said. "I decided to teach preschoolers because preschool is a very important part of each child's life, because it's when they're first learning how to read, write and count, and I think that a second language is something just as important as those other basic skills and should be taught in conjunction."
She taught one language per classroom — German at Our Children's Place, Spanish at Smart-E Pants, and French at Little Learners.
"Julia came (to our) preschool with enthusiasm and a creative spirit, wanting to share her love of language with the kids," said Duckwall. "Julia focused on Spanish with our Smart-E Pants students. She would read a book and do a hands-on project at every visit.
"We can't wait to hear where her love of languages takes her," Duckwall added.
"One of my favorite memories from this project was when I was teaching German at Our Children's Place and I had the opportunity to talk to a native German speaker, a little girl named Juni, who, although shy, giggled at the silly stories and seemed to really enjoy the lessons and her classmates learning the basics," Skwarczynski said.
"I also loved seeing the children's eyes light up and their minds expand when they realized that there was more than just one way to say a word, because for some of the children, this was their first time ever hearing another language," she said.
Skwarczynski said her EA project "has definitely cemented ideas about language acquisition in my own mind and has also taught me fair leadership skills and compassion."
Her own language teachers are impressed with not only her ability to learn languages, but her understanding.
"Julia is lovely!" said Skwarczynski's Hood River Valley High School Spanish Teacher Heidi Mudry. "She is also hard working, respectful and humble … I'm assuming she's like this across the board, but it's obvious to us that she has a 'thing' for languages, and we are happy about that!"
Mimi Macht, who has taught Skwarczynski French and German, said her pronunciation "is close to perfect. Julia is a disciplined, determined and dedicated student," Macht said. "I was one of two teachers who accompanied the HRVHS French students on their spring trip to France (in 2014). Julia got to go as a freshman because of her maturity and her proficiency in French.
"Whatever college she attends will lucky to have her as a student, as I have been."