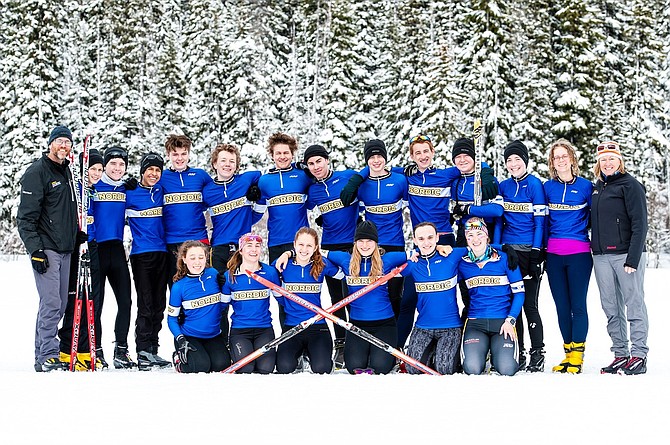 HRV Nordic has developed a talented group of athletes and produces a competitive team that's ready to face any challenge sent their way. This season, the boys and girls teams took a combined third-place finish with 180 points out of the total 16 teams present at the Oregon Interscholastic Ski Racing Association (OISRA) Nordic skiing championships this weekend. As they have done in the majority of their races this season, Summit (43) placed first overall in the combined standings and Bend placed second (156).
On Friday, HRV headed to Mt. Bachelor Nordic Center in Bend to take on the 6K freestyle skate race — the first event of the championships. Arriving around 11:30 a.m., the team felt the warm sun and sticky snow, which are not ideal conditions for skating. Around 1 p.m. the temperature took a plunge and the sky opened up — at 35 and raining, the weather actually improved the snow, making for a fast race.
The main staging area for the race was the oval, which created a large U-track with an inner area for waxing, but the oval didn't provide protection from the wind or rain, so spectators were forced to hide under tents as the racers zipped by. HRV's Daisy Dolan cracked the top 10, placing 10th for the girls with a time of 21 minutes, 31 seconds; Jesse Wiley placed eighth overall with a time of 17:13 and Leif Bergstrom placed 10th with a time of 17:49 for the boys.
The girls took third overall in the 6K skate and boys took fifth.
On Saturday they were back at it, but this time, the temp held at a comfortable 30 degrees and freshly groomed tracks welcomed skiers for the 5K classic race. HRV scored some podiums again, with Dolan placing fourth overall at 18:02, Denali Emmons 13th at 19:19, Bergstrom seventh at 14:58, and Wiley 10th at 15:01. The girls took fourth overall, the boys took third.
The team also competed in relays on Saturday with the HRV boys placing second (team of Bergstrom, Wiley, and Elkin Parker) and the girls placing third (team of Dolan, Emmons, and Samantha Thompson).
For those students searching for a winter sport with hard temps and good snow, try Nordic skiing. Yes, it has its ups and downs (literally) and you'll skate like a newborn deer but with the passion of the HRV Nordic team pushing you, you will improve greatly! I spoke with team members asking them how they felt about their season and what advice they'd offer new athletes.
Emmons, a senior and fourth-year team skier, said, "It was amazing to finish out the season, knowing that I gave it my all." She also added, "Don't underestimate the importance of strength and form. Improving these two aspects of Nordic will result in great improvement throughout the season.
Connor Truax, a sophomore and second-year team skier, said, "I would encourage new Nordic athletes to get in the best shape they can pre-season and to dedicate themselves to work hard on their form and endurance on skis."
Dolan, a junior and third-year team skier, said, "I am really proud of how well our small team competed this weekend. Everyone has improved so much this season, which was evident in the races." She added, "I really hope that we can get some more athletes out next season, because Nordic is a sport for life and it's a really great group of people."
Jesse Wiley, a junior and third-year team skier, simply stated, "I would encourage anyone interested in the team to try it out, because it is a lot of fun."
HRV Nordic Head Coach Bonnie Lambert, who just completed her ninth year helming the team, said that "keeping positive and trusting the process," as well as on-snow and dry land training has helped the team improve throughout the season, but added that it couldn't be done without everyone's support.
"The team has evolved and developed steadily over the years as a result of the positive support from team parents, coaches and community members who have stepped up to help the team function — it truly takes a village," she said.
HRV results
Girls:
6K Freestyle: (First overall, Liv Downing, Summit, 18 minutes, 44.5 seconds) Daisy Dolan (10th, 21:31.0), Valerie Fischer (12th, 22:28.3), Denali Emmons (16th, 22:53.3), Samantha Thompson (39th, 26:24.8).
5K Classic: (First overall, Gemma Munck, Bend, 16:35.9) Dolan (fourth, 18:02.8), Emmons (13th, 19:19.8), Samantha Thompson (43rd, 25:29.9).
Boys:
6K Freestyle: (First overall, Alex Martin, Summit, 15:35.6) Jesse Wiley (eighth, 17:13.3), Leif Bergstrom (10th, 17:49.2), Muir Emmons (31st, 20:09.8), Per Bergstrom (37th, 20:27.5), Finn Peterson (42nd, 20:53.0), Ben Kaden (49th, 21:55.9), Connor Truax (54th, 22:03.0), Ezra Johnsen (81st, 26:09.1), William Kissinger (100th, 34:04.6).
5K Classic: (First overall, Thomas Schoderbek, Summit, 13:47.1) Leif Bergstrom (seventh, 14:58.1), Wiley (10th, 15:01.3), Emmons (16th, 16:22.6), Elkin Parker (22nd, 16:51.1), Truax (28th, 17:29.1), Per Bergstrom (42nd, 18:35.7), Peterson (45th, 18:39.0), Kaden (65th, 21:15.4), Johnsen (83rd, 24:49.8), Kissinger (92nd, 27:55.8).