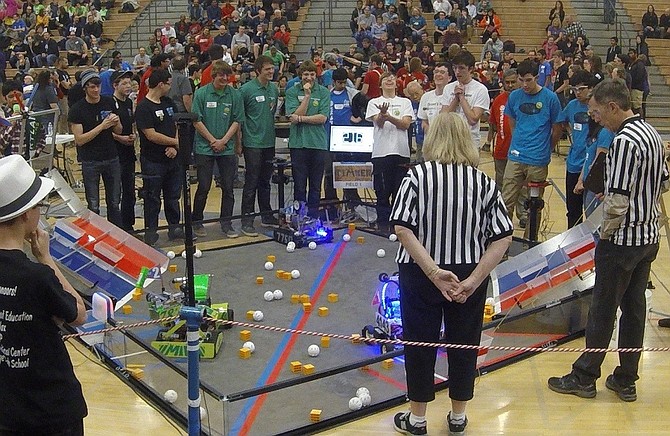 Occam's Razor robotics team from Hood River Valley High School has advanced to the Super Regional competition in Oakland, Calif., March 24-26.
The Hood River team took third in the Inspire Award at the First Tech Challenge Championship Tournament held on Feb. 27 and 28 at Benson Polytechnic High School in Portland.
Oregon Robotics Tournament and Outreach Program (ORTOP) hosted the competition that brought together 44 top middle/high school robotics teams to compete with custom-made robots in "RES-Q." Earlier this year, over 185 teams from around Oregon competed at league meets and qualifying tournaments, and the top-performing teams from these events participated in this weekend's championship.
Also advancing to Oakland were Sa-Bot-Age and Bazinga Bots! of The Dalles High School.
The 2015-2016 game, RES-Q, is modeled after rescue situations faced by mountain explorers all over the globe. Played by two alliances of two robots each, robots score points by resetting rescue beacons, delivering rescue climbers to a shelter, parking on the mountain, and parking in the rescue beacon repair zone or floor goal.
The Inspire Award, the most prestigious award of the competition, went to Batteries in Black, a Washington County 4-H Team. The Inspire Award is given to the team which performed well in all judging categories and was chosen as a model FTC team. The judges used observations made during interviews and in the pit area, the team's engineering notebook, and performance on the playing field in determining the winner.
Batteries in Black also served as the captain of the Winning Alliance. The other teams in the Winning Alliance were SA-BOT-AGE and Klamath Coyotes from Eagle Ridge High School.
Of the 16 students nominated for the Dean's Award, four were from HRVHS: from Steelheads in Pink, Elizabeth Bailey and Melissa Nardone, and from Men in Green, Michael McAllister and Joey Slover.