Hood River Valley High School students received word last month of their placement in the regional contest of the Scholastic Art and Writing awards, and were honored at an all-school fine arts assembly on Feb. 26.
Students received recognition in first (Gold Key), second (Silver Key), and honorable mention categories. Those earning Gold Keys have been entered into the national contest, with winners to be announced March 14. Elizabeth Munoz, a senior, is the only HRVHS student to receive a Gold Key award in writing with her poem, below:
Transcendental Romance: Scent of a Putrid Flower
Dear sweet and putrid Flower
I find myself riveted by your solitude.
And there is no better method for passing the day
In this jail-cell we call freedom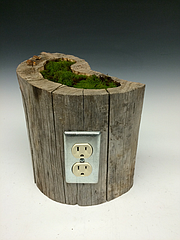 Than contemplating your petals red as blood
Whose dye swiftly smeared across the veins of my liberal heart.
You are aware of my confinement, and I welcome it so
Just as I have welcomed my dear father, with a riveting glow.
Flower, poor dear
Rebellious and so battered
To be plucked and swept off the soils
That have hindered your growth.
I find it ideal and you would gladly welcome
My own putrid aroma of dying roses.
And though you are a conflicted soul,
You speak the truth of a million voices
When you whisper the wise words
Of a soul as old as the setting Sun,
"There is only one path to Heaven.
On Earth, we call it Love."*
— Elizabeth Marie Muñoz Robles, Hood River Valley High School
* Goldman, Karen, "Angel Book"