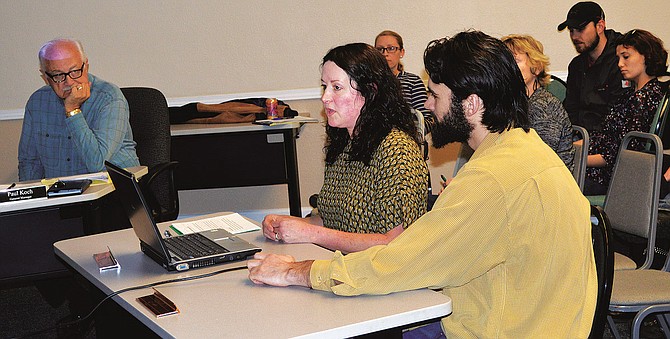 Blooms and bridges dominated Thursday's Cascade Locks Port Commission meeting.
Gorgeous Green, a marijuana growing company, gave a brief business plan to Port officials and roughly a dozen members of the public.
Megan Horan and Zach Prosser, aunt and nephew from Stevenson, shared their hopes of renting out Port property to house a 1,500-square-foot indoor growing facility, which would source cannabis for retailers in other cities.
"We're local. We're serious. We want to succeed and we want Cascade Locks to benefit from it," Horan said.
The evening's discussion was a "fact-gathering" purpose, not a "decision-making" one, Port General Manager Paul Koch said.
Port commissioners and staff showed interest in moving forward with business negotiations, though legal requirements are up in the air.
Port Attorney Tommy Brooks said marijuana remains illegal as a federally controlled substance, and the Port would need to assess "risks" once they enter an actual business transaction.
Port Economic Developer Don Mann said banking remains a challenge for marijuana related businesses due to the federal policy, but legislation from the Oregon Congress could change that.
Unlike Hood River, the City of Cascade Locks last summer passed restrictions essentially banning marijuana dispensaries from doing business on the main drag of WaNaPa Street — time, place and manner restrictions set forth a "no" on any establishment located 1,000 feet from a school or public park.
However, a growing business could be allowed, and would be tucked outside of the public eye, Horan said. The "canopy" of plants within wouldn't be visible through any windows, and smell could be tamped down to less than a brewery's output via ventilation systems.
Horan and Prosser said the business plans to increase its footprint as it grows, employing more people over time until reaching 10-20 employees. Horan estimated the full-time wage would be $35-40,000 per year, and Gorge area residents would have priority.
Gorgeous Green request: 'I'd like to see it...'
Public input favored Gorgeous Green's request to set up a marijuana-growing facility in Cascade Locks. It would be the community's first such business.
"I'd like to see it … I think it'd be good for the community," said Kenneth Davis of Cascade Locks, one of five people who weighed in.
None spoke directly against the idea of a growing site, but security concerns did arise, given that Cascade Locks has no full-time police officer.
Horan said the business would follow Oregon Liquor Control Commission security restrictions, such as advanced video surveillance technology.
Toll talk
The Port of Cascade Locks plans to increase tolls on the Bridge of the Gods in order to support the cost of management of the bridge — a proposition long in-the-works.
The Port's 10-year plan identified a need for roughly $14 million in bridge work costs — and tolls are the primary revenue support for the Port, Koch said at the meeting.
The exact figure for the rate hike is an issue they hope to iron out this spring.
Koch presented an early plan, which would keep tolls at $1 for local passenger cars but raise the cost of non-residents without ticket coupons to either $2 or $3 per crossing. Other options include a discount plan for frequent users.
Locals would get a free decal placed on their windshield to prove their residency, via the plan. The proposal included residents of Hood River, Klickitat and Skamania Counties, Dodson and Warrendale. Another option would encompass all of the Columbia River Gorge.
Audience members felt the plan would be complicated (defining residency and fee categories) and costly.
Casey Roeder, executive director of the Skamania County Chamber of Commerce, said a major toll increase will harm the local tourism economy.
"I would ask for something less than doubling or tripling the toll," Roeder said.
The Port Commission agreed they have their work ahead of them to hammer out details.
"Simpler is better," Port Commissioner Brad Lorang said.
Port of Cascade Locks will hold additional hearings on the matter in Stevenson, bring it back for review, and potentially adopt the increases by May 5. The change would likely go into effect in September, after the summer tourist rush.