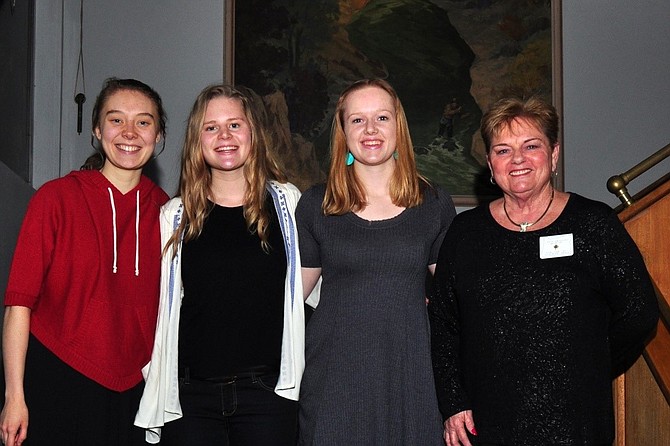 This year, Elks National Foundation will give $4.1 million in three college scholarship programs, the "Most Valuable Student" Scholarship being just one of them. The Hood River Elks No. 1507 will award an additional $3,000 this year.
The Most Valuable Student (MVS) scholarship is based on 1,000 points — 500 points for scholarship, which is 250 for SAT/ACT and 250 points GPA and intensity of courses, 400 points for leadership, which includes work experience, community service, honors and awards, leadership and extra-curricular activities, and 100 points for financial need.
"It was disappointing to only receive six applications for MVS, but what we received were top notch candidates," said Linda Sanders, Elks scholarship chairman. "All of the 'Most Valuable Student' winners have also been recipients of the Elks 'Students of the Month' award and they were either a pioneer or have shown a great passion for at least one of their major projects or activities."
Third place winner was Emily Burns who was awarded $500. Emily is a three sport athlete, participating in sailing, swimming and water polo. Emily was the first women on the all-boys' water polo team.
She encouraged enough girls to play water polo so that HRVHS now has a women's team where she is captain, and a State and All-League player. She is currently Secretary of the Varsity Sailing Team and the Asian Club.
She was a camp counselor for 4-H, a teacher's aide for May Street Elementary, hospital volunteer at Providence Hood River Hospital, a math peer tutor at HRVHS and a sailing instructor for Gorge Junior Sailing.
Second place winner is Charley Boonstra, and she will be receiving $700. Her community service includes ecology teaching at Ecology Institute, youth trip to Yakima Indian Reservation, water bottle interviews for Climate Action Club, river clean-up for Columbia Riverkeepers, volunteer for Fish Food Bank, and youth trip to care farm for Sanctuary One.
Charley is president and founder of Climate Action Club, she was a counselor at Peace Village and Green Camp, and works on the school newspaper and plans events for the youth group. She was awarded the Tod J. LeFevre Sustainability Award and she's a nominee for Daughters of the American Revolution.
First place winner is Payton Rigert, with nearly 4 pages of community service activities, some of which included camp counselor at Camp Morrow, volunteering at the Hood to River Race for the Hood River Valley High wrestling club, working at the slushie booth at the county fair, road clean up, assisting with the youth wrestling club, and teaching Sunday school at Christian Missionary Alliance Church.
She has also worked at the Mexican Baja Orphanage, is a member of the Leos Club, and endless other projects. She is the team captain of the high school wrestling team and was selected to the Oregon Women's National Wrestling Team.
She's president and county ambassador for 4-H, treasurer of National Honors Society and a member of the Robotic Team, Toastmaster Speech Club and the Water Polo Team. Payton's brochure went to the District Contest in Hermiston, where she placed second and was awarded an additional $1,600.
Noah Noteboom is a three sport athlete playing basketball, soccer, and track and field. He was freshman class president, a semi-finalist in Poetry Out Loud, and was a member of Yearbook Club and Fight Club.
He was captain of Captain's Council and an actor is Les Miserables. He was December Athlete of the Month and a member of the second team All-League Basketball and Soccer teams.
Noah's community service includes the canned food drive, riverfront clean-up, blood drive, Christmas Project, and numerous years as a volunteer for Relay for Life. Noah will be receiving a $700 award which will go to the college of his choice.
"With the guidance of their parents and teachers, these amazing young people have learned what is important," said Sanders. "They have earned self-confidence, determination and a passion to give back and improve their community. The Elks wish each of them continued success in the future.