Following his assault on Feb. 29, Kozen Sampson is feeling "grateful I was not terribly hurt."
Sampson, a Buddhist monk for 50 years, reported he was assaulted on Feb. 29 on the Heights while getting out of his car.
Sampson, who keeps his hair cropped and wears plain brown robes in keeping with his faith, had gone for lunch near Providence Hood River Memorial Hospital and then parked on "a side road, I am not sure which one" to take his dog for a walk.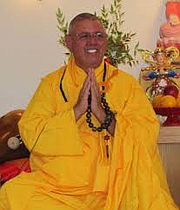 "I started to get out of the car and heard someone yell, 'Hey,' and then I was hit in the ear by the car door.
The assailant then said, "F-ing Muslim" and left, Sampson said.
"The car door smacked my head and then my head hit the door frame," said Sampson, who did not see his assailant. He said he was able to stop the bleeding and drive home.
"I am happy it happened to me and not to a Muslim," Sampson said. "My biggest concern is for how anyone has to live with the fear and the distrust and the possibility of an assault."
Sampson, 66, said that no one came to his aid, but that he did not see anyone around. When asked by police to describe the assailant he could not do so, saying, "I lost part of my memory for about 15 minutes."
Sampson said he called Hood River Police on March 2. He said, "I hadn't planned to say anything, but a friend said if it happened it needs to be on the record, which I agree with," said Sampson.
"It became a teachable moment that we don't have to be afraid because of our differences."
"I didn't want to say anything but agreed to have it put on Facebook because I hope whoever did this reads this and rethinks his behavior."
Sheriff Matt English confirmed that his office had responded in January to a report by a Hispanic cab driver that a passenger made a verbal comment about his race and then brandished a firearm. Deputies went to the passenger's home but no found no weapon and there is no further investigation at this time, according English. He said law enforcement in Washington State are also investigating a reported threat to a cab driver with the same company, also in January.
"Those type of incidents are concerning, but right now we're not seeing a pattern," English said. "It is a couple of isolated incidents, one of which was ours. We investigate them like any other crime, take action when can."
He said an implied threat or an assault on someone based on their race, religion, sexual orientation or other protected class status could be pursued as first- or second-degree Intimidation, or Menacing.
Sampson founded Mt. Adams Zen Buddhist Temple at Trout Lake Abbey nine years ago, and regularly volunteers as chaplain at area hospitals. He is a member of the Mt. Adams Ministerial Association. Before moving to the Gorge, he worked in the Midwest as a nursing therapist and hospital administrator.
"I feel sad. I had just taken my grandson to a mosque in Vancouver last month because he said, 'I don't know what Muslims are,' and I wanted him go meet them and understand. We went so he could see that Muslims are just people like any of us.
"We have a country trying to find its tone," Sampson said. "There are some politicians who have people riled up as they seek to build their power base. They are not seeing everyone as a part of the human family. We need to find a kinder way to approach our differences and look at the rest of life." Sampson said he strives for a message of inclusion and peace. "I like to quote a sign I saw at an Episcopal church: 'Either we are all God's children or none of us God's children.' That would be my takeaway.
"You never think it will happen in your neighborhood and affect you personally," he said. "How many of us have let these things go by, even if just in our own mind, having these kind of thoughts rather than taking people as they come."
Mount Adams Zen Buddhist Temple practices the Vietnamese Rinzai and Japanese Soto Zen traditions. And holds services on Saturday mornings at 9 a.m. in addition to meditation services most mornings and some evenings.