Sam Carpenter is hoping to ride the anti-establishment wave into federal office by ousting incumbent U.S. Sen. Ron Wyden, D-Ore.
Carpenter, a Republican, said that he joins millions of Americans in the belief that it is time to "stop playing Washington politics."
He resides in Bend and is a telecommunications executive and business turnaround expert. He views not previously having served in an elected office as a plus.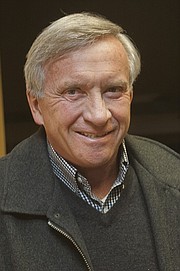 "I've spent my life working in the trenches of the real world and I've learned that solutions to problems are usually pretty simple — unless you have spent the last 30 years as part of the ruling class in Washington," said Carpenter, 66.
He holds Wyden responsible for many bad policy decisions that have adversely affected the natural resource industry in Oregon, and many other states.
"I'm an outsider, I've been in the private sector since 11 and I've built businesses from the ground up and employed thousands of Oregonians," said Carpenter.
"My campaign is about jobs, there isn't anybody who doesn't want a better job — it's not a red or blue issue."
He expects record turnout at the polls in November because of growing populace anger about heavy-handed federal bureaucracy and reams of red tape that stifle economic development.
"I think everyone knows what's going to happen in November, I just don't think they know how massive," said Carpenter.
With the national deficit now topping $19 trillion — and growing daily — he sees his business skills as a much-needed asset in the Senate.
"The flaw I've seen in almost every company I've worked with comes down to bad operation," he said. "The machine is sound, it's the management of it that gums up the works. The same concept holds true in government; the machine created by our founders works great — it's our career politicians who are the problem."
He said many rural towns in Oregon and around the Pacific Northwest have been destroyed since the 1980s due to excessive environmental regulations that Wyden has championed.
He said Wyden now talks a lot about the importance of cleaning up the diseased and bug-infested trees in national forests to stop catastrophic wildfires. The problem, said Carpenter, is that Wyden has supported policies that put vast tracts of land off-limits to management in the first place.
In addition, Carpenter said legislation proposed by Wyden adds so many legal processes, obstacles and hurdles to forest cleanup that it will be difficult to actually get anything done.
"Our forests are a renewable resource, this is insane," he said.
"My goal is to energize our little towns and give something back to the hundreds of families who have lost so much. This encroachment by the federal government or outright neglect has to stop."
Carpenter said forests are routinely managed in Europe and other parts of the world to yield trees for lumber needs and also provide green space for recreation.
"This is an 'Emperor has no clothes' type of situation," he said. "People try to pretend that these policies are good for our forests but, when you actually see the mess they are in, you can't rationalize what we're doing."
His campaign strategy is simple: Give people who live in rural areas of the state hope that their concerns will be addressed and get them to vote in November. Then wade into the large urban centers that are Wyden's stomping ground and try to increase understanding about the need for greater balance.
In the past several federal elections, Carpenter said thousands of Oregonians stayed home because they could not relate to candidates, and he is now seeking their vote, as well as involvement in his campaign.
He is proud of having been endorsed by both Jason Conger and Monica Wehby, who ran unsuccessful campaigns against U.S. Sen. Jeff Merkley in 2014.
Last week, Carpenter was in Wasco County meeting with GOP leaders and he plans to return to the gorge in the near future to converse with community members.
"I'm not going to 'spin,' I'm just going to tell people how I feel about things. I'm not going to quibble, I'm just going to point out that the emperor has no clothes," he said.
Read the full story at www.thedalleschronicle.com.