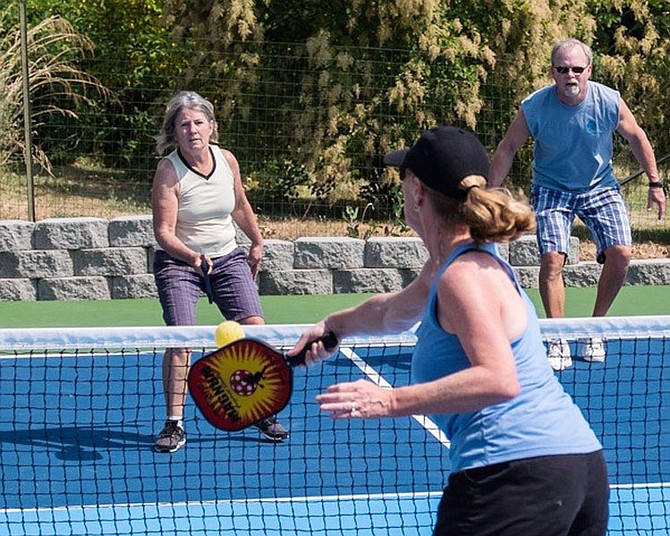 For those who have been interested in pickleball but haven't tried the sport out yet, come out Saturday, March 19 to the Hood River Sports Club to take part in a free day of pickleball.
The Hood River Sports Club, in conjunction with the Gorge Pickleball Association (GPA), will be hosting a free pickleball clinic from 1-5 p.m. Everyone is welcome and those interested do not have to be members of GPA.
For those unfamiliar with the sport, pickleball can be played by the whole family. Players use a paddle (about twice the size of a ping-pong paddle) and a ball similar to a whiffle ball and play can be described as a cross between ping pong and tennis. It's easy to learn, hard to master and can be set up in a driveway or parking lot with a portable net and some chalk, played on dedicated courts or set up on gym floors.
Next Saturday's event will feature beginner's clinics, open play for all levels, and a special demo by 5.0 (top-ranked) players from Portland. The 5.0 players featuring Cory Jubitz, Emily Williams, and national champions Christine Barksdale and Joy Leising will play an exhibition match and spend time playing with anyone interested in getting on the court with a top-ranked player.
Six courts will be set up for play and all equipment will be provided. Those attending should wear sports attire and wear athletic shoes with soles that will not leave marks on the courts. All ages are welcome; a liability waiver with the Hood River Sports Club must be signed before playing and those under 18 will have to have their waivers signed by an accompanying adult.
Those interested in volunteering for the event can contact Chris Smith (541-490-4031) or Elizabeth Whelan (541-490-1296). For more information on the event, head to the GPA Facebook page at www.facebook.com/gorgepickleball.
The Gorge Pickleball Association currently has 64 members and is open to all ages. Pickleball is available through Hood River Community Education on Tuesdays, Thursdays, and Sundays.