A.J. Kitt of Hood River announced Tuesday afternoon that he has withdrawn from the May 17 Primary Election race for Hood River County Commission, position 2.
"I had some personal health issues come up and while I regret withdrawing from the case so close to the deadline, the timing was not in my control," Kitt said. He made his announcement Tuesday, on the final day to file.
"I feel like, had I done so sooner, it would have allowed someone to come forward," Kitt said.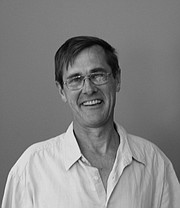 "I am sorry he has to drop out of the race, and I hope his medical issues are resolved soon," said Rich McBride, who had also filed for the office and is now unopposed on the ballot.
Kitt said while he has no criticism of McBride, he regrets that voters might not have a two-candidate dynamic with its discussion of the issues.
McBride, a Port of Hood River commissioner who works as a realtor, said he plans to be available to constituents as part of the electoral process.
"I plan to be at any and all events and have a short thing to say and ask people if they have any questions of me, and try to get a dialogue going," he said.
"I'm looking forward to serving the community in what I consider a very important role, and I hope to do a good job," McBride said.
The only locally contested races voters will see on the ballot are for State House Dist. 52, and Cascade Locks Justice of the Peace, with Donna Mohr, Brad Lorang, and John Harvey.
Dist. 52 office holder Mark Johnson (R-Hood River), is running unopposed in his party while Democrats Mark Reynolds of Odell and Walt Trandum of Sandy vie in the Democratic contest
Running uncontested for local offices are incumbents Ron Rivers, County Commissioner Chair; Les Perskins, County Commissioner District 4; Sheriff Matt English; District Attorney John Sewell, and Seventh District Circuit Court Justices John Wolf and Janet Stauffer.
CL VOTERS
will see MHCC bond request May 17
There will be two measures on the county ballot:
Measure 14-55 amends the County Charter to prohibit commercial bottled water production, and Measure 14-58 asks voters to approve a levy for $57,175,000 in bonds to improve and construct school facilities.
Measure 26-170 asks if Mt. Hood Community College should expand skilled job training; enhance student safety, technology; issue bonds not exceeding $125,000,000.
The last day to register to vote or change your party affiliation is April 26.
If you have any election related questions contact the Elections Office at 541-386-1442.
Proceeds of the MHCC district bonds will be used to finance district-wide capital projects. The State has agreed to provide a grant towards the cost of the projects but only if the college can provide matching funds. Passage of this bond would provide the matching funds. In addition, the district intends to apply to the State for seismic grants to help defray costs.

If the bonds are approved, a citizen committee would be established to oversee use of the proceeds. Bond proceeds would be used to:
• Construct, equip and furnish new Workforce Applied Technology Center
• Construct, equip and furnish new Northeast Portland (Maywood Park) campus building
• Safety, security and other improvements including lockdown capability and seismic upgrades
• Technology infrastructure improvements
• Refinance existing capital obligations
Bonds would mature in a period not to exceed 21 years from date of issuance and may be issued in one or more series. If approved, the tax rate is estimated to be approximately 31 cents per $1,000 of assessed property value or $31 per year for property assessed at $100,000.