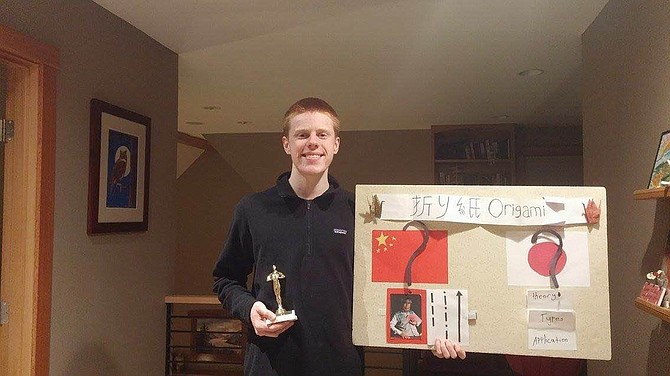 Johnston wins award for origami talk
Nathan Johnston, a junior at Hood River Valley High School, won second Place in Expository Speaking at the Southridge High School Invitational Tournament on March 5. Expository Speaking is an event that combines a speech to explain a subject with visual aids for effect. Johnston's speech on Origami, its history and modern applications, has received high marks for creativity. He hopes to take the speech to the state tournament in April.
Sunby advances to Geography Bee
Eighth grader Saylor Sunby of Hood River Middle School has been named semifinalist in the Oregon National Geographic State Bee, scheduled for April 1 at Western Oregon University in Monmouth. Sunby's parents are Shawn and Katie Sunby.
This is the second level of the National Geographic Bee competition, now in its 28th year. School bees were held in schools with fourth- through eighth-grade students, throughout the state to determine each school champion. School champions then took an online qualifying test. The National Geographic Society has invited up to 100 of the top-scoring students in each state and the District of Columbia.
Each state champion will receive $100, the National Geographic and the chance to represent their state in the Bee Championship at National Geographic society headquarters on May 22-25. The national champion will receive a $50,000 college scholarship.