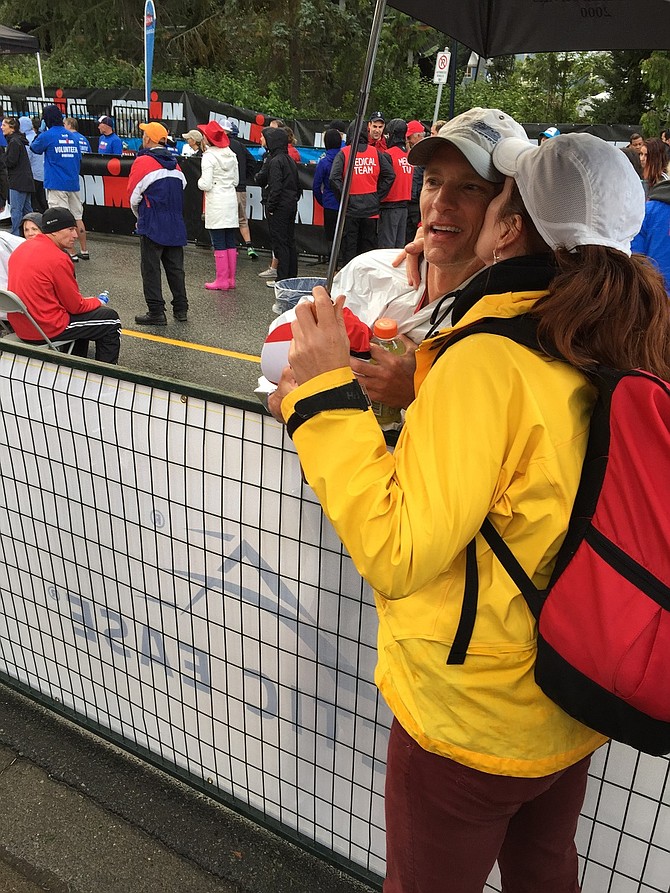 i·ron man
noun
(Especially in sporting contexts) an exceptionally strong or robust man; 2. a multi-event sporting contest demanding stamina, in particular a consecutive triathlon of swimming, cycling, and running.
noun: Ironman
A "full" Ironman Triathlon is one of a series of long-distance triathlon races organized by the World Triathlon Corporation (WTC) consisting of a 2.4-mile (3.86 km) swim, a 112-mile (180.25 km) bicycle ride and a marathon 26.2-mile (42.2 km) run, raced in that order and without a break.
The swim:
Training began with swimming on Tuesday, Nov. 11. I awoke at 4:45 a.m., had my coffee, and committed to 31 straight days of early morning pool swims. I'm not what most would consider a morning person. Surprisingly the first couple of weeks were the easiest. I was excited with the newness of the schedule as well as eager to start my training. As with almost all sorts of training, the gains realized early on are substantial and help to fuel your enthusiasm to keep pushing. By the start of the fourth week, the gains had been reduced and on some days lost entirely. This was a bit of a wet blanket on my efforts. However, by that time, enough of the regular "early birds" at the Hood River Sports Club had taken an interest in what I was doing. Where my training improvements lacked, their enthusiasm more than made up for. That really helped! Thanks to Don, Josh, Tim, Coral, Chris, Ed, Linda, Jill and many other HRSC Early Birds!
The bike:
Tuesday, Jan. 27 commenced my introduction into bicycle training. I participated in my first "spin-class" and thought that it was a lot of fun. Throughout the next month I participated in numerous hour long spin classes at the Sports Club, all of which I enjoyed and felt like this "biking thing" was going to be a breeze. I was in for a very rude awakening. On Monday, March 9, I did my first trainer ride at the house. (You put your road bike on a contraption to keep it stationary. It helped to have a movie or two in front of my face.) I lasted almost 45 minutes before I crawled off the bike and laid on the floor in agony.

A bike designed for the speed and efficiency needed for a long triathlon is significantly different from a stationary or modern day road bike. The rider is much more forward, providing for a wonderfully cramped position. Second, in addition to the conventional handle bars, there are the tri-bars and rests. These are implements designed to wring the last possible bit of comfort out of being on this machine and rendering it hopelessly painful to your neck, back, shoulders and wrists. And the seat — the seat on this bike felt like sitting on a handle of a hammer. In just a few minutes on this saddle some "very important parts" began to burn, then get numb, then (even though numb) began to burn again. It was nearly two weeks before I was able to build up to an hour long ride and a month before I could endure two hours on that medieval torture device. I recognized something would have to change before I would ever be able to train for a six or seven hour, 100-plus mile ride.

I was led to Cassie Nobbs, who is an accomplished Ironman athlete, a physical therapist and someone who does custom bike fittings. In short, she was an angel placed here to help me achieve my dream. Thank you to Cassie, and to Tom Letsinger (GVH Bikes), who familiarized me with the machine and got me competent with performing regular maintenance needed during training or a race.
You mean there's a plan for this?:
Somewhere around late April, my wife, Samantha, started wondering if I was doing enough and the right kind of training. Thank God at least one of us was thinking! One was titled Super Simple Ironman Training Plan. Super Simple sounded right up my alley. While it was Super Simple, it wasn't Super Easy.
Training and eating:
April led to May and May trailed into June, and all the while I swam, biked and ran increasingly longer distances and times. The good thing about training for three disciplines is, when you get sore or bored with one, you shift to the others and gain some relief (healing) from the aches and pains of the former activity.
The volume of work required to prepare is significant, and so is the amount of food needed to fuel those workouts. Samantha became the food monitor. I found myself being constantly accosted with questions of how much food I had consumed. She began stowing food away in my backpack, laptop carry case, the glove box of my truck — I'm pretty sure there was food in my pockets that I didn't even know about. At the later phases of training, I'm not sure which I grew more tired of, training or eating. Probably eating.
Start small:
Since I've never done a triathlon, we picked an easy one to cut my teeth on. On June 7, the Pine Hollow Triathlon is where I began my "career" as a triathlete. This was a short 750 yard swim, a 15K bike ride and a 5K run. We arrived to the Pine Hollow reservoir early to make sure I had enough time to get my bearings and work out my nerves. I put my wetsuit on for the first time, waded into the water with the other 40 or so competitors, and awaited the start. My plan was not to go out too fast. I certainly abided in that plan, thanks to the strain my wet suit was putting on my arms. I hadn't pulled the dang thing up far enough to allow for ease of arm mobility! Samantha was there cheering me on, encouraging me to run. I slowly transitioned to the bike without incident and was off on my first ride.

I finished my first Triathlon and had a blast doing it. I was ecstatic to not have drowned, crashed or cramped. Samantha and I went back to retrieve the bike and was very surprised to find that the front tube on the bike had exploded. Thankfully it didn't happen out on the course. I hadn't even had enough common sense to pack a spare.
I'm halfway there:
With my triathlon virginity gone, I focused on the next distance. Saturday, June 27 was to be my next (bigger) test. This time I packed a spare tire.
The bike portion was almost without incident. As I approached the bike-to-run transition area, I spotted some of my fan club and gave a thumbs up. Feeling confident, I got right up to the dismount line, swung my right leg over the seat and was standing on the left pedal while slowing to a crawl. As I reached the line and slowed to a complete stop, I could not unclip as all my weight was on my standing foot. I fell over at 0 MPH. Fully embarrassed, but unhurt, an onlooker smiled and encouraged me with, "Man that was smooth, I never even heard you hit the ground!" Smiling, I was off to the run.
My run was painful and at times because of the 95-degree heat, but I was able to keep on task, break it up into small pieces, and finish without incident. Slow time, but I was still elated at my accomplishment at the completion of that race.

The road to Whistler:
The big race was now four weeks away.

Thursday, July 22 was the decided day for travel to Whistler. The Gorge is a very beautiful place that holds special significance for me. Whistler, Canada, is an area of surpassing beauty that has been taken care of by its inhabitants.

A kid in a candy store:
Friday was spent as a tourist and getting checked in as an official participant. Getting checked in as an athlete was special for me. You never know if you're going to get a second chance to do another one of these events, so I wanted to soak up every experience surrounding this race. This is where first timers start to feel some of the thrill of this race, as well as get some of the swag. You'd think I'd never seen a backpack before, the way I acted when I received my official Ironman Canada backpack. I acted like a 5-year-old getting a bicycle at Christmas. After a check of the weather prediction for Sunday's race, we determined it was a necessary expense to purchase a rain and windproof jacket for the bike phase of the race. The weather was not looking very favorable and would likely be quite wet and cold.
No turning back now!
Surprisingly, I got a few good hours of sleep and awoke at 3:30 a.m. feeling refreshed, calm, and resolute. Around 5 or 5:15, after everyone had eaten and certain bodily functions had been necessarily completed, we packed our stuff into a vehicle and set out for the swim site.

At the starting area, I set about to the task of getting ready for the swim. I took extra time to take stock of all that was going on around me, experiences I wasn't sure I would ever get to encounter again — the smell of applying the Tri-Slide and the exceptionally tight but comforting feel of pulling my wetsuit on, the sound of snapping the swim cap onto my head, the looking through the slightly blurry lenses of my swim goggles as I tested them one last time for good fit. Looking around at the 1,800-plus other folks doing the same thing, I reflected on all the work I and every other racer had sacrificed to get to this point.
I easily spied Samantha in the crowd with her day-glow yellow raincoat. I wandered to the perimeter to let her know I was feeling good. She was her usual uber-encouraging self and again indicated how proud she was of me. We parted company with a kiss and she pointed out where the rest of my fan club was. I found my cheering section and took a moment to receive compliments and well wishes from them. The start was getting close, so I began to queue up with the other racers.
This race was again a different swim start experience for me. This was a deep water, mass start. The weather forecast was apparently quite correct as the rain began to come down. At 7 sharp, the race began and as it did, the water erupted with 3,600 arms and legs churning the surface at the same time the rain increased and began to pour in earnest.
The swim was a fun start to the race. It was a blast swimming with 1,800 people. Banging into other bodies and having them do the same to you was surprisingly comforting.
Even though the rain was coming down hard and the surface of the water was boiling as far as you could see, it was a thoroughly enjoyable experience.
I remember thinking to myself, "break this into small parts and you'll get through it fine." The weather was going to play a bigger role in this race than I realized, but I would soon find that out.
As I got my wetsuit ripped off me by a volunteer, found my transition bag and headed into the changing tent, the weather component reared its ugly head. Because it was 40 degrees and raining heavily, all the racers were taking significant extra time to warm up and dawn additional gear. It took me at least 15 minutes to find enough room to get changed. It would do no good to panic now. I just waited my turn and changed when the opportunity presented itself.
Today is the day:
Having made the change into biking gear, I exited the pavilion area, spotted many of my fan club, and gave them a large smile and a hearty wave. The rain was still coming down very heavily and it was still very cold. This would be a tough ride, that was certain.
The first challenging issue to present itself was the lack of visibility and the cold. Not 10 miles into the ride, I began noticing the bike's handling was very strange. I kept looking at the tires to make sure one wasn't going flat. After a few minutes of this frustration, I realized that the bike was fine, it was me that was shaking so hard it was causing the bike to wobble. Every time I took a drink, I ran through a quick mental checklist….
• You're upright
• You're able to see
• You're cold but you're still able to think clearly
• You've got five more minutes, then we check-in again
Just like the swim, I broke the ride into small parts so as not to overwhelm myself with the magnitude of it all. My five minute checks were my salvation, but they could not prevent what every rider dreads: A flat. At about the 20-mile mark, after a long hard climb, I had a rear flat. Never having to had to change a flat, I was at first a little nervous, but I got off the bike and got to work. Proud of my accomplishment, I got back into the race and resumed my five-minute mental checklist therapy. Somewhere between 40 and 50 miles after a long fast downhill, I experienced my second flat tire challenge.
I was shivering uncontrollably after the long descent and was having a terrible time getting my hands to do what I wanted them to. I nearly got the tire changed but was unable to get the tire to seat on the rim because my thumbs could not apply enough pressure.
I couldn't hang on to a tire lever and just had no way of mounting that damn tire. I tried using my mouth, tried pinning the wheel against the center divider and using my body weight to get the tire to seat. Nothing was working. Fortunately, one of the services your race entry pays for is a bunch of roving mechanics that constantly circle the bike course and offer aid to riders. While waiting, I tried to warm up by performing jumping jacks, burpees, and funky dance moves. A good while later, a tech vehicle arrived, replaced both the tube and tire, and had me back on the course. That was the best $103 tire and tube I've ever purchased.
Expensive? Yes, but I would have paid three times that to be able to finish the ride.

Hitting the wall:
It's one of the most common phrases associated with distance running. Even if you've never experienced it, it conjures up many images, none of which are pleasant. I've had the misfortune to experience it a couple times during my many marathons. Pain, lots of pain.

Starting my run, I was in the best of moods. I had been racing since 7 a.m. and it was now after 4 p.m. and I was still feeling pretty good. I went about my marathon with a business-like approach: Just get it done, it doesn't have to be flashy or pretty, it just has to be done. For the first 17 or 18 miles of the marathon portion of my Ironman, thankfully, pain was in short supply. Over the next two miles, the pain was starting to stack up, but it was still pretty easy to focus on the finish and block most of it out. When the pain begins to get intense, friends and family will be the first to see it. Whether it's the look in your eyes, a shortened stride, or maybe the early signs of a limp. By mile 24, it became quite obvious to both people who knew me and those who didn't that I was now wrestling with some demons.
The flashbacks to the eight long months of training, the sleep deprived morning swims, the 100 degree, 100-mile bike rides and the pavement pounding runs that seemed they would never end. All those memories come rising up, demanding your attention and validation that this is all worth it. I can't count how many lies, promises and bargains I made with myself from miles 22 through mile 25. By mile 25-plus, I could hear the crowd and the announcer and could quit making empty promises to myself. At that moment, I KNEW I would finish, even if I had to walk the last mile.

Few things will prepare you for the final few hundred yards of the Ironman. As I ran those last steps, giving high-fives to strangers as well as friends and family, I was yelling and laughing and as happy as I could ever remember. As I crossed the finish line with both arms raised and heard the announcer's voice say, "Jeff Irwin, you are an Ironman," I felt an intense sense of accomplishment and an extreme thankfulness. I walked through the post finish area, picking up my medal, finisher's shirt and hat and worked my way to the one I wanted to share this accomplishment with the most.
My amazing wife Samantha, with her unmistakable rain coat, was easy to spot. I took no detours in getting to her and kissing her, hugging her, and thanking her. I thanked my family and friends who had come along on this journey. I recognized how blessed I am to have been able to be here, to complete this decade's long dream and to have such love and support from so many people.
Thank you for taking this journey with me. May your dreams come true — one of mine surely did.