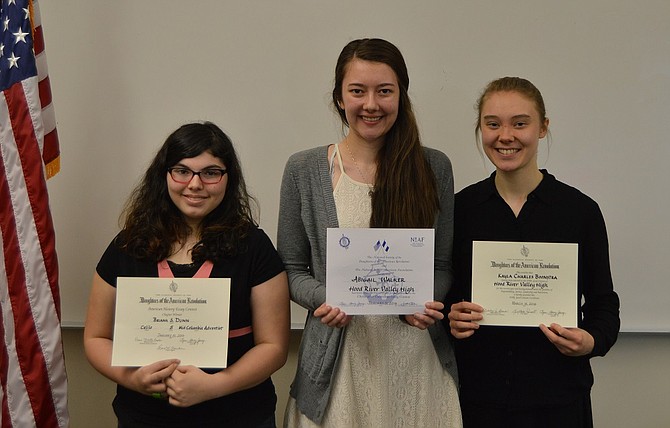 Daughters of the American Revolution (DAR), Celilo Chapter, gathered Wednesday, March 16, to honor three students during their regular monthly meeting.
The students, Briana Dunn, Abby Walker and Charley Boonstra, each won an essay contest — and, in Boonstra's case, a scholarship — sponsored by the chapter, and read their entries to the assembled crowd of DAR members and family and friends before receiving certificates and checks in recognition of their accomplishments.
Dunn, an eighth grader at Mid-Columbia Adventist Christian School, won the district's middle school essay contest with her piece, "A Colonial Family's Reaction to the Stamp Act." Dunn's story followed a husband and wife, detailing their shock and outrage as they learn of the tax for the first time and, later, how it emboldens them to join the fight for freedom during the Revolution. She was introduced and presented her award by Chairman of the American History Contest Barbara Menard.
Walker, a junior at Hood River Valley High, was also introduced by Menard as the Christopher Columbus Essay Contest for the district with an essay entitled, "Columbus and Lindbergh: A Journey Across the Atlantic." The DAR partners with the National Italian American Foundation in this annual essay contest for students in grades 9-12.
Walker's essay gave a fictionalized account of Charles Lindbergh's thoughts of being compared to Christopher Columbus by a little girl during a tour stop, concluding that both were driven by ambition and a hunger to continually prove themselves. She is also the Oregon State essay winner, and will be presented an award at the Oregon DAR State Conference, held this year in Eugene on May 21.
Boonstra, a senior at Hood River Valley High School, won the chapter's Good Citizenship scholarship offered to seniors, now in its second year. The award "recognizes and rewards individuals who possess the qualities of dependability, service, leadership and patriotism in their homes, schools and communities," according to the website www.dar.org. "These students are selected by their teachers and peers because they demonstrate these qualities to an outstanding degree."
Contest rules provide that entrants have two hours to write their scholarship essay after opening the envelope containing the question, said Good Citizen Committee Chairman Victoria Kelsey.
"It puts the person on the spot, and they have to think well and type carefully," Kelsey told members as she introduced Boonstra.
In addition to the essay, Boonstra submitted teacher recommendations, grades and an activities list. She wrote of her love of nature and resolve in caring for the earth. "Equality for all should also apply to nature," she wrote. And, later, "It's the dreamers who change the world."