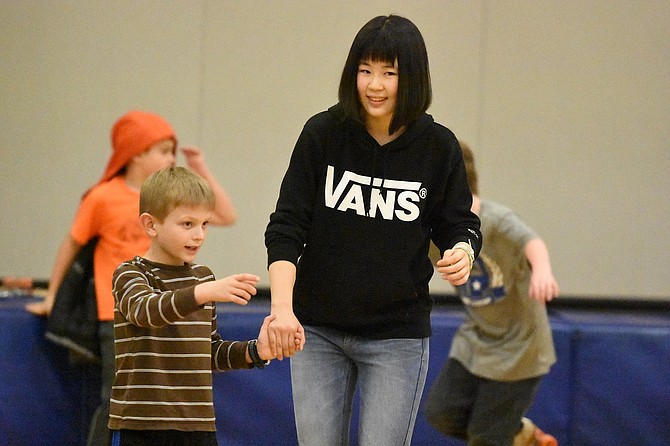 There were tears from both sides as host families said goodbye to their junior high school students from Tsuruta, Japan, Tuesday morning at Hood River Valley High School.
The group of students, accompanied by one of their teachers, a town representative and a tour guide, spent the past nine days touring the area and immersing themselves in American life and culture. The group as a whole did many activities together, but also had ample individual time with their host families. Each family hosted two or three students and after more than a week in each other's company, bonds and memories were formed that could possibly last a lifetime. The visit was another successful chapter in the 39-year Hood River-Tsuruta Sister City Program.
Their days were full as they attended classes at the middle schools, went bowling, hiked, played dodgeball, shopped and toured the area visiting various places from local elementary schools to iconic places such as Multnomah Falls and Bonneville Dam.
In some cases, students had the opportunity to visit the coast, sing karaoke, go skiing and even get a bird's eye view of the area in a private plane.
Eating always ranks high on the list of favorite activities. This group was no different as students indulged their taste buds by trying Mexican food and eating American classics like steak, cheeseburgers and pizza. As is the norm today, each meal or tasty treat was digitally commemorated. Each student's camera has a memory card filled with numerous food photos that quite possibly outnumber any other subject matter.
The annual trip to Hood River is offered to eighth graders in their second year of junior high school in Tsuruta, a small town located in northern Japan in the Aomori prefecture. Over the years, hundreds of students have made the journey and each year Hood River plays host to a new group of students. Along with the junior high school visit, Tsuruta also sends a group of high school students each fall and an adult delegation every five years.
Hood River in turn sends middle school and high school students to Tsuruta every two years and adults every five years. The next trip is this August, when Hood River will send a student group over to Tsuruta. If any students are interested in participating in this summer's trip, please contact LisaAnn Kawachi at lisakawachi@yahoo.com for further details.