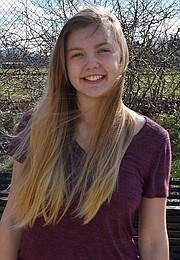 Hood River Valley High School sophomore Samantha Morley has earned a Silver Medal at the national round of the Scholastic Art Awards.
Morley's piece, entitled "Human Landscape," won a Gold Key award at the regional level. Regional awards were announced Feb. 3, and national awards on March 14.
"She is the first Hood River Valley High School art student to ever earn a medal in this completion," said Amirra Malak, art teacher.
"We are pleased to announce that Samantha Morley has earned a Silver Medal in the Scholastic Art and Writing Awards of 2016," read the notice sent to Morley at the school. "Students who earn medals have been identified by panels of creative professionals as the most talented young artists and writers in the nation. This year, nearly 320,000 works of art and writing were submitted. Only the top 1 percent were recognized at the national level."
Morley also participates in the school's wrestling program.
•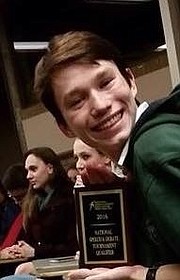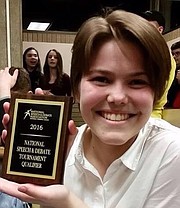 Two HRVHS students have won spots in the National Speech and Debate competition to be held June 12-17 in Salt Lake City, Utah.
Senior Darrian Thomas will compete in International Extemporaneous speaking, an event where participants research current events prior to the competition. At the competition, each person receives a topic about a current event, and then has 30 minutes to write a seven minute speech about the topic.
Sophomore Ruby Patterson will compete in Original Oratory, an event where students write a 10-minute long persuasive speech on any topic of their choosing.
The National Speech and Debate Association hosts the annual competition, which is the largest academic competition in the country. Students qualify to go to Nationals by winning at a regional District tournament. The Hood River team competed at the University of Oregon on March 11-12.
The NSDA tournaments are separate from the OSAA system. Hood River will host the OSAA District 9 tournament on April 2 and hope to send several students to the State tournament later in April.
In order to attend the National tournament, Thomas and Patterson will be raising money to support their travel and hotel expenses. A Go Fund Me site has been set up and their teammates will support them with a carwash later this spring.