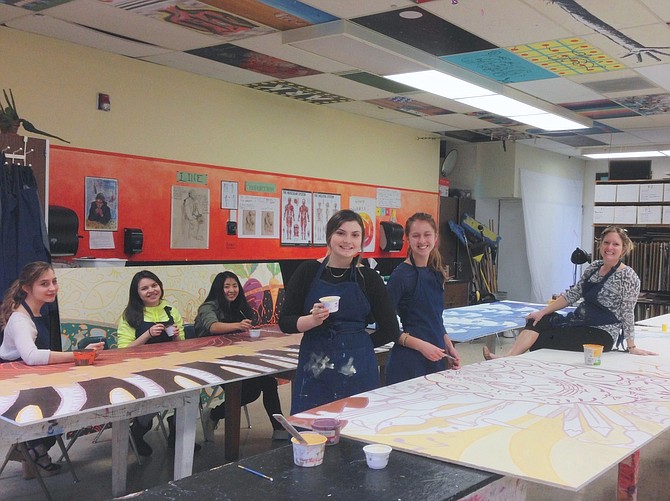 Hood River Valley High School's health center looks a lot more colorful these days, thanks to murals created by the school's National Art Honor Society and local mural artist Allison Bell Fox. About 12 students participated in the project.
The center, run by One Community Health, was awarded a Hood River Cultural Trust grant for the murals' design, creation and installation. Themes ranged from nutrition to dental hygiene on the outside of the building, and cell forms inside.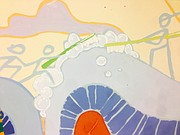 "The kids and I brainstormed and came up with a pretty long list (of themes, such as) nutrition, cardiovascular health … there's a section that focuses on spine and muscle, and a portion that focuses on left and right brain function," she said.
The murals are a representation of "all around general health," she said.
That's the exterior. The interior portion "is just a real soft design of microbiological cell forms, like red and white blood cell forms, some probiotic cells … simple line designs," Fox explained. "The kids loved the idea of internal function micro-world happening inside the building."
Fox has done other murals around town — such as the one at Mt. View Orchards — and is a graphic artist by trade. This was her first time working with high school students, and she was impressed with their ability to run with the project.
"I'd like to do more school-related programs now," she said.
The center opened in June 2015, and serves HRVHS students as well as preschool and daycare students located on campus. The health care team includes Sarah Dang, CNP, Henri Shields, behavioral health consultant, Melody Farrell, CMA, and Lynne Frost, DNP and clinical operations director.
About the HRVHS health center
The center is for HRVHS students and offers physical, mental and preventative health services and is open Monday through Friday, 8 a.m. to 5 p.m., when students are at school. For an appointment, call 541-308-8345; walk-ins welcome. After hours, call 541-386-6380.
No student is turned away for an inability to pay for care. All insurances are accepted, and sliding scale discounts are available.
The center is staffed by a nurse practitioner, medical assistant, and mental health provider.