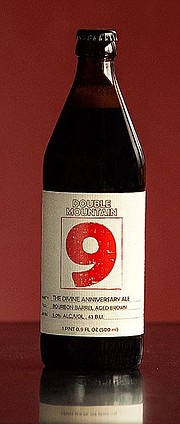 Double Mountain Brewery and Taproom released The Divine Bourbon Barrel Aged Brown in honor of its ninth anniversary on March 19. This strong brown ale (9.0 percent ABV, 43 BU) is available in the bottle and on draft at the Double Mountain Brewery and Taproom, located in downtown Hood River. The Divine can be found throughout the Northwest, British Columbia, and Southern California in late March.
"The blend of Woodford Reserve barrels and McArthy's Peaty Whiskey barrels commingled in a way that can only be described as divine," said owner/brewmaster, Matt Swihart.
The strong brown ale base brew was left to meditate in Woodford Reserve bourbon barrels for the better part of a year. The celestial slumber brought forth wooden vanilla, toffee, caramel, black licorice, and dark fruit, accompanied by a pleasant bourbon warmth, Swihart said.
LTC on tap at Big Horse Brewing
Brewer Derrak Smith of Big Horse announces a new beer, "tapping sometime this week." The L.C.D. (5.3 percent ABV, 35 BU) is "a balanced copper ale between caramel, coco malt and citrus hops both in aroma and taste," Smith said.
Big Horse Brewery owners Randy and Susan Orzeck have announced plans to expand the brewery, the first since its opening in 1988. Look for evidence of bigger digs starting this summer, depending on the permitting process.