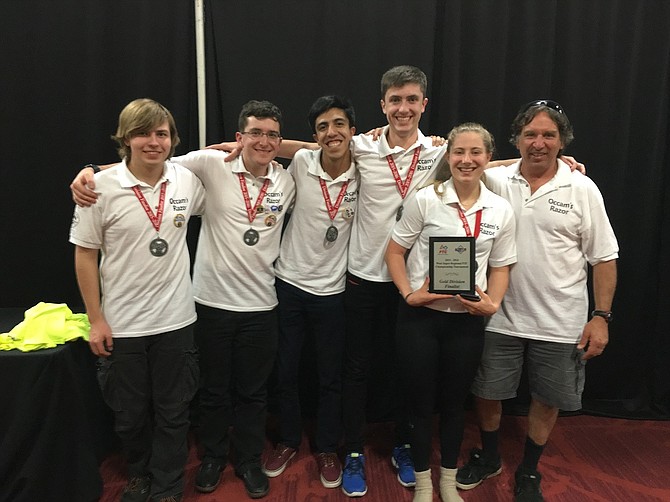 Occam's Razor robotics team from Hood River Valley High School was a finalist in state competition and will advance to national competition, a first for a Hood River team.
Occam's Razor took one of two Gold Finalist spots.
The Oregon Robotics Tournament and Outreach Program (ORTOP) announced that Oregon teams did well at the First Tech Challenge (FTC) West Super-Regional Championship held at the Oakland, Calif., Convention Center from March 24-26. A total of 15 Oregon robotics teams made up of middle and high school were among 72 teams representing 12 western states. During the winter season, each team designed and built a custom robot to compete in this year's challenge called Res-Q. Seven of the Oregon teams will go on to compete at the First Tech Challenge World Championship in St. Louis, Mo., on April 27-30.
After nine qualifying rounds, Occam's Razor ranked eighth in the Gold Division, earning them a spot in the Second Place Alliance. With their two alliance partners, they won the semi-final round, but were eliminated from the competition in the Gold Division Finals. The team's achievements allowed them to advance to the FTC World Championships.
The number of Oregon teams advancing is particularly impressive given that only 24 teams from the 12-state region advanced. Oregon teams represent 29 percent of the teams advancing, while it has less than 6 percent of the population of the region.
ORTOP offers the FTC program to help students in grades 7 through 12 begin exploring technical careers, and Oregon boasts one of the largest FTC programs in the nation with 186 teams. Each team is comprised of up to 15 students who start the season in the fall by designing and programming a unique robot using a standard kit plus other parts that they purchase or create. The 2015-2016 game, Res-Q, is modeled after rescue situations faced by mountain explorers all over the globe. Played by two alliances of two robots each, robots score points by resetting rescue beacons, delivering rescue climbers to a shelter, parking on the mountain, and parking in the rescue beacon repair zone or floor goal. Robots also score points by retrieving debris from the playing field and placing them in mountain or floor goals, and also by hanging from a pull-up bar during the last 30 seconds of a match.
Hot Wired of Westview High School and Spark Technology Education was a member of the three-team Event Winning Alliance. The tournament was divided into two divisions — Gold and Silver — with 36 teams in each division. After many qualifying rounds, top-ranked teams in each division formed alliances. Four alliances in each division competed against each other through quarter-finals, semi-finals and finals. The top alliance from each division then competed head-to-head for the Event Winning Alliance of the tournament. Hot Wired was one of the three teams in this Winning Alliance. Hot Wired also took second place in the most prestigious category awarded by the championship judges called Inspire.
Teams from Medford, Lake Oswego, Klamath Falls and Washington County will also advance.
For more information on the FTC program, go to www. ortop.org/ ftc.
Sponsors are Hood River School District, Gorge Technology Alliance, Robichaud Batten Systems, Hogg & Davis, Inc, Waste Watch Inc, Decavo, Insitu and Google.

ORTOP thanks its generous sponsors for this event, including Rockwell Collins, the presenting sponsor, Garmin, Google and Intel, platinum sponsors, BPA, Daimler, FIRST Tech Federal Credit Union, Garmin, IBM, Oregon Airshow, Phtech, and Vernier, gold sponsors, Business Oregon, ESI, FEI, ONAMI, and Timbercon, silver sponsors, as well as all its supporting sponsors and its many hard-working volunteers.