Denali Emmons and Blanca Muñoz, seniors at Hood River Valley High School, were chosen as Elks Students of the Month for the month of March. Each student received a check for $100 at a recent Lodge meeting.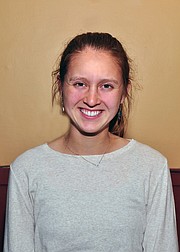 Denali is described as organized, patient, poised and determined with an encouraging demeanor. She maintains a 3.89 GPA, taking AP and honors classes. She is a three sport athlete and is captain of the cross country and Nordic ski team, and a three-year member of the varsity distance track team. She has participated in the Captain's Council, executive council of Student Government, Climate Action Club, as a Link Leader, has been secretary and treasurer of the National Art Honors Society, organized the school's Portland to Coast team, and modeled at the Gala Fashion Show for the school's Fashion Club.
Denali's community service includes volunteering as an AVID tutor at Hood River Middle School, announcing for the middle school track meets, setting up for the Columbia Gorge Ski Swap, a first aid station volunteer at the Columbia Gorge Marathon, participating in the Adopt-A-Family Christmas Project, and organizing and coordinating the Third Annual Empty Bowl fundraiser for FISH. Denali's artwork "Abstraction of Squash" has been shown at the Hoffman Gallery at Oregon College of Arts & Craft, and her 3D portfolio at Dog River Coffee Shop.
Denali is the daughter of Brent and Shawnie Emmons. She would like to attend OSU Cascades College in Bend and major in biology.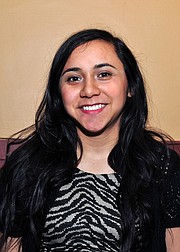 Blanca' teachers describe her as an outstanding, intelligent, dedicated student with a desire to learn and a high personal work ethic and habits. She maintains a 3.9 GPA. Since 2013, Blanca has been a member of MECHa, and as such has painted faces at the Mid Valley Carnival and setup for the bonfire at HRVHS. For National Honor Society, she volunteered "trick or treating" for cans of food for FISH, helped with the Christmas Project and escorting prospective members.
As a Link Leader, she has given orientations to incoming freshman. She has prepared and sold food for wrestling tournaments for Inspiration Circle and was a member of the track and field team. She has also volunteered at the History Museum of Hood River County as a guide for Cemetery Tales.
As Bianca is bilingual, she has translated for parents at parent/teacher conferences at Wy'east Middle School, has volunteered at Providence Hood River Memorial Hospital supervising games for elementary schoolers, has volunteered as an AVID tutor for eighth graders at Wy'east Middle School, has sold food for at boys and girls basketball games, and has participated in the Hood River Haunted House. She says for fun, she likes to cook and hang out with her friends.
Bianca is the daughter of Enrique Muñoz and Ramona Villarreal. She would like to attend Linfield and major in biology.
Both will have the opportunity to compete for "Student of the Year," presented in May.