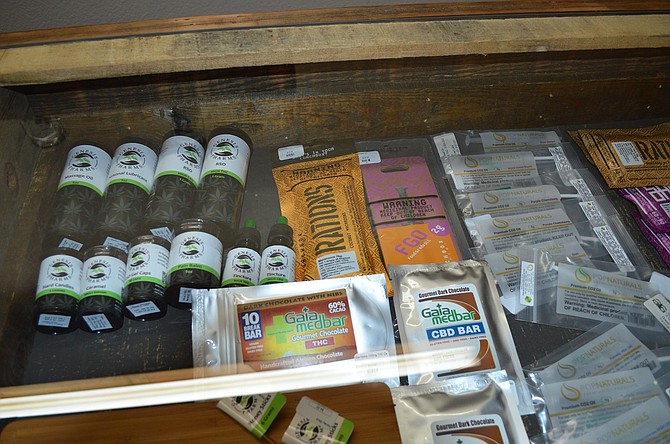 This story has been updated.
Marijuana dispensaries in Oregon will be allowed to sell limited amounts of edibles and other pot-based products to retail customers, starting June 2.
The new marijuana rules come from SB 1511, which passed during the 2016 legislative session. The bill expanded Oregon Health Authority's early sales program, which the agency first rolled out in October. That program allows OHA-licensed medical marijuana dispensaries to sell designated amounts of cannabis to recreational customers 21 and up.
Starting June 2, OHA-licensed medical marijuana dispensaries participating in the program can sell a couple new marijuana products:
One low-dose cannabis-based edible to each customer per day — 15 milligrams or less of tetrahydrocannabinol (THC).
Non-psychoactive medical cannabinoid topicals (lotions, balms), which have a THC content of six percent or less.
One prefilled container or cartridge of marijuana extract per customer — a maximum of 1,000 milligrams (1 gram) of THC.
Like roughly 340 registered dispensaries across the state (according to OHA's website), Hood River's four retail-approved medical marijuana dispensaries will have the go-ahead to sell the expanded products.
A fifth dispensary, Evergreen Hood River, is slated to open on the Hood River Heights in mid-June. The business at 1408 13th St., next to 10 Speed Coffee Bar, is currently registered with OHA for medical sales only.
Luke Tanner, owner of Mt. View Naturals at 1020 Wasco St., expects business will pick up at the retail-approved medical marijuana dispensary in early June when OHA starts allowing sale of expanded products.
"There's going to be a big increase (in customers) for the first couple of days," Tanner said.
OHA's retail program is a transitional phase for Oregon's marijuana industry. In January 2017, the Oregon Liquor Control Commission takes regulatory control over all recreational sales.
For now, retail sales are subject to a 25 percent sales tax.
The Oregon Department of Revenue reported $6.84 million in retail marijuana tax payments between January and March. That didn't include medical sales, which are untaxed for Oregon Medical Marijuana Program (OMMP) card holders.
The Oregon Health Authority's draft of temporary rules for retail sales are available online at www.oregon.gov/oha/mmj/Pages/rules.aspx.
•
On the growing side, Hood River County has 17 registered recreational producers, according to a May 3 report by Oregon Liquor Control Commission. The county passed an ordinance in April temporarily prohibiting any more applications for growing sites on rural residential zones. Discussion over rules for the land use side of marijuana grows will come before the County Planning Commission at a work session scheduled Wednesday, May 11 at 5:30 p.m., at County Business Administration Building, 601 State St.