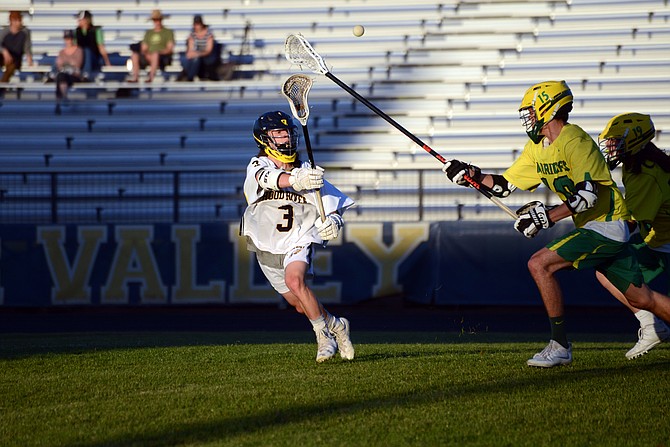 The HRV boys lacrosse team's five-game losing streak came to an end Tuesday night with a much-needed win over the Cleveland Warriors — the Eagles' first league victory of the season.
The win at home came too late for it to do anything to elevate HRV from a second-to-last place spot in the Columbia League Standings and was the fifth of six league competitions on the schedule this season. However, it did keep the Eagles from falling in the overall Oregon High School Lacrosse Association standings, at which they stood at 17th out of 50 teams as of press time — which would give the team a spot in the 24-team bracket.
Moreover, the 15-5 drubbing of Cleveland was a huge monkey off HRV's back, said Head Coach Matt Luchsinger, as the team has struggled to win games thanks to injuries and eligibility problems.
"They started to come back together; it was a huge confidence builder for us… it felt great, no doubt about it," he said.
HRV (9-6, 1-4 league) took advantage of the struggling Warriors (5-8, 0-5), pouncing early in the game with a goal from midfielder Bruce Ostler, who lead the team with four scores and an assist Tuesday evening. HRV went up 4-1 at the end of the first quarter and had a 6-2 lead at the half.
Though they had a four-goal lead, Luchsinger characterized it as a slow start for the Eagles, who have been a second-half team in many of the games this season. That stayed true in the third, when HRV outscored Cleveland 7-0 to put the game out of reach.
The game also marked the return of starting goalie Jhett Chrisman, who Luchsinger said is a "huge help" to HRV. Chrisman didn't see a ton of action for the Eagles on Tuesday, saving six of 11 shots (55 percent), while HRV kept Cleveland penned in their own zone and controlled the faceoff circle.
Behind Ostler on the scoring sheet was Ben Van Hoose, who had three goals, and Torsenn Brown, who had two goals and an assist. Cale Brown and Elliott Cramer also had two goals each, while Alex McAlpine and Steven Crouch had a goal and an assist apiece. Bryce Donald rounded out the scoring for HRV. Alex Ellifritz also scored a point with an assist. On ground balls, Ostler and McAlpine led with six each.
The week's games made for some interesting shake-ups in the OHSLA, with Luchsinger noting that Grant beat Wilson in double overtime, which helped HRV out as Wilson lurked one place behind the Eagles in the standings. Central Catholic jumped one spot ahead of HRV with a massive upset over No. 5 OES and a defeat of No. 13 Grant.
HRV looked to defeat Grant (11-4, 2-3) on the road Friday in what will be the final league game of the season for the Eagles (results not available at press time). HRV then hosts the Hermiston Bulldogs (6-8, no league) at 1 p.m. Saturday and then will close out the regular season with a home contest against La Salle (4-9, 1-4 Northwest League) this Tuesday at 7 p.m.