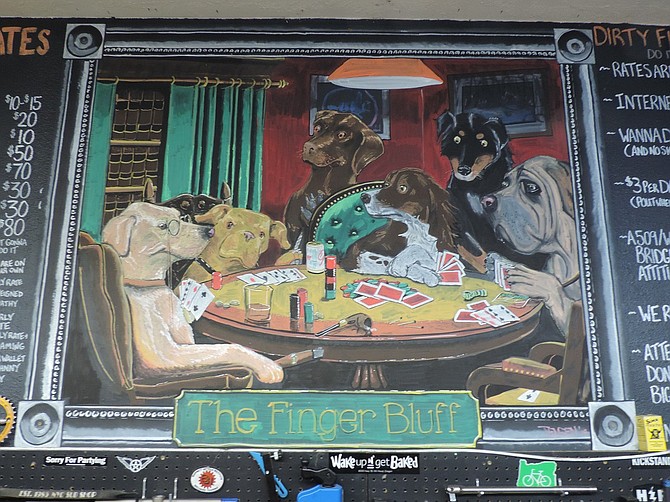 It's no secret that Hood River is a dog-friendly town — go literally anywhere and you'll see dogs and their humans together. And that includes the business and service community as well. Shop dogs are more and more common — and are a big hit with customers.
Here is a sampling of a few of the many places where dogs serve as ambassadors, greeters and comforters.
Tony — Anderson's Tribute Center
Tony is the "accidental" office and therapy dog at Anderson's — accidental, because he wasn't meant to be an office dog. The 5-year-old Yorkie/Pomeranian mix ended up at the office one day and immediately took to his new position as a therapist for grieving families. Tony has also become the face of Anderson's; Trumbull said that at a recent First Friday event, he heard someone say, "Hey, there's Tony from Anderson's!"
Wellington — Columbia Gorge CASA
Wellington — or Wellie — is a Boston Terrier who has accompanied CASA Volunteer Manager Susan Baldwin to work since she brought him home eight years ago on his 8 week birthday. "He has been my constant office companion and CSA greeter," she said. "He has accompanied me to visits, and made friends with the foster children for whom I've advocated as often as invited. In addition, he has played an important role in easing the fears of many nervous, frightened children who are clients of Columbia Gorge Children's Advocacy Center." (The two offices share space.)
Monte and Ricky Bobby — Dirty Fingers Bicycle Repair
Monte is the oldest dog on our list — he just celebrated his 16th birthday with a party at the shop. This white lab has been coming to Dirty Fingers since he was six weeks old, said owner Mitchell Buck. "He just lays there and licks everyone's feet," said the shop's Terry Buchanan, "and he loves kids." Monte has been the subject of several artistic renderings, including this one, far right, of Monte and his pals by artist Jared Jensen — including Ricky Bobby, a maybe 10-year-old rescue dog that has been coming into the shop for about a year.
Ozzie — Hood River Coffee Roasters
Ozzie is a 10 and a half year old black lab who serves as greeter to all who enter the business' front office. He's been coming since he was a puppy and had to learn how to climb the stairs to get to the upper offices, said owner Peggy Thompson-Hudon. His Eeyore-like temperament makes him a great office dog — he's a bit mopey, but is also super calm and quite the belly-rub enthusiast. And that Hood River Coffee Roasters "Obey the Lab" blend? Yep, that was inspired by Ozzie.
EZ — Hood River Hobbies
You can find EZ helping out Monday, Wednesday and Friday with Jay Chrisman, the hobby and toy shop's sales associate and marketing director. The 5-year-old Airedale Terrier and Catahoula Leopard Cur likes to greet customers — she's gentle and friendly, if a little skittish, said Chrisman. And if that's not enough of a claim to fame, EZ also has her own Instagram (#ezpuppy).
Ida — Shortt Supply
Ida, a rescue from Home at Last, has been coming to the shop since she was 6 weeks old, when owner Brian Shortt adopted her. She's 4 now, and not only knows hand signals, but how to give high-fives — a good trick for any greeter. Ida's job is to greet the employees first thing in the morning with hugs and smiles. The Australian Shepherd-Catahoula mix is also a big hit with tourists when she sits in the front window … but has a bed in the back for naps for break time.
Dado, Alfie and Remington
— Hood River News
While these dogs don't show up at the office on a daily basis, they can periodically be found within our walls. Dado the Chihuahua is the oldest of the group at 11. He doesn't know he is a dog, and greets us, his "co-workers," with a smile every time he comes in — except when he's busy sneaking treats from Stacey Methvin in the front office while Mom Jody Thompson, News advertising director, isn't looking.
Alfie the Goldendoodle is just 3, but he's already had plenty of business experience — he's even been featured on radio commercials with Media Consultant Suzette Gehring for Cascade Pet Camp. At the newspaper, he's a popular pooch "and he knows it," Gehring said. "His role here is more of a confidant and therapy dog during our high pressure days."
And Remington, a Labradoodle, is the new kid on the block at 2. He's trash patrol, said Media Consultant Kirsten Lane — and is always up for attention.
Dog park plan update
Scott Baker, Hood River Parks and Recreation District assistant director, said Friday that construction on a new dog park is slated to begin in late summer or early fall. The plan has received conceptual approval by the port and city council, and a site plan review is currently underway.
The park will be located between the city's Waste Water Treatment Plant and the Hook, on Portway Avenue on the waterfront. "We're working through the process of a three-way partnership between the city, port and park district," said Baker. "It's a great collaborative effort to make the dog park happen for our community."