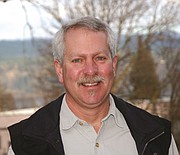 On May 11, members of the Oregon Solutions Historic Columbia River Highway Collaborative signed a Declaration of Cooperation outlining goals for the project and delegating responsibilities to specific stakeholders. The collaborative seeks to improve pedestrian and vehicle safety along the Columbia River Highway and enhance visitor experiences.
As a co-convener of the project, Rep. Mark Johnson (R-Hood River) worked to bring together county, state and federal stakeholders to develop strategies for advancing the project.
Rep. Johnson will continue to be involved in public events to promote the project and coordinate communication between local leaders and the Oregon Solutions Project Team.
"I was honored to be appointed by the Governor as a co-convener of this group," said Rep. Johnson. "It was important to me that we identified immediate solutions that would increase safety and reduce tourism related congestion without creating hardships for local residents, while also respecting those who live along the historic highway."
The Declaration of Cooperation comes after more than a dozen stakeholder groups met over a 10-month period to develop a plan of action for the project. Among the specific commitments contained in the declaration are:
• Establish Oregon Department of Transportation "Gorge Express" pilot transfer service between Gateway Transit via Rooster Rock State Park to Multnomah Falls (see page A2)
• Improve safety for pedestrians and drivers accessing the Gorge
• Seek additional funding for future transportation and congestion relief projects
• Increase availability of public safety officers to control high-traffic locations
• Develop short, medium, and long term congestion management strategies
Participating members of the project will continue to meet over the coming months to monitor the project's progress and ensure that there remains an open dialogue between the Oregon Solutions team and community members.
Oregon Solutions was established with the passage of Oregon's Sustainability Act in in 2001.
The group works to solve community-based problems through collaboration with business, nonprofit and government leaders. Since 2001, Oregon Solutions has completed over 60 projects around the state.