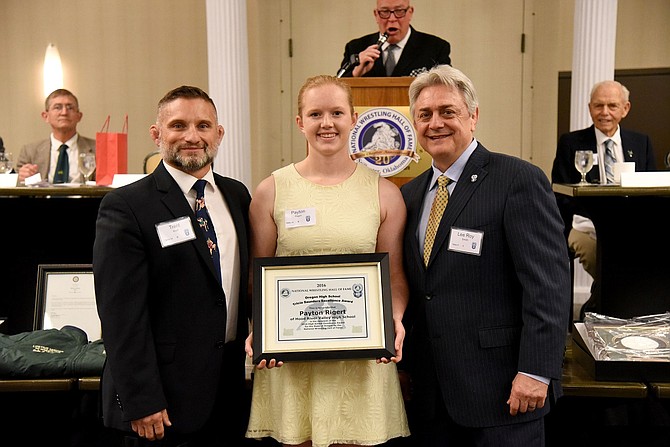 The National Wrestling Hall of Fame's Tricia Saunders High School Excellence Award for the Outstanding Female Wrestler of the Year in Oregon goes to three-time girls wrestling state champ and Hood River Valley High School senior, Payton Rigert. She is the daughter of Trey and Deona Rigert.
Rigert was described in a release by the NWHF as "one of the pioneers of girls wrestling in Oregon." She began her career mostly having the opportunity to only wrestle against males, but as girls wrestling continued to grow in Oregon, Rigert had the opportunity to wrestle more matches against females, catching the eyes of college coaches around the nation.
This year, Rigert wrestled 46 matches against females in Washington and Oregon with a 42-4 record. Recently, Rigert won her third Girls Freestyle & Greco State Championship, giving her three Triple Crown awards in Oregon. In March, Rigert earned a USA Wrestling All-American status, placing eighth at the Folkstyle National Championships in Oklahoma.
Rigert is a three-sport athlete, also competing in water polo and track. Additionally, she has earned a 4.0 GPA, is a member of the National Honor Society and will be valedictorian of her class. She has spent many hours volunteering in her community and especially helped out with the Hood River Kids Wrestling Club. Next year, Rigert has chosen to wrestle and study at the University of the Cumberlands in Kentucky.
'Her leadership on the wrestling team has been outstanding. Our program is better because of Payton.'
TRENT KROLL
"We are super proud of Payton and her accomplishments here at HRVHS," said Trent Kroll, head coach of the HRV wrestling teams. "She has represented the Eagles very well throughout her four years of high school. Her leadership on the wrestling team has been outstanding. Our program is better because of Payton. Thanks to Payton for all she has given back to the team and congratulations to her on working hard to accomplish the goals she set for herself. Hard work does pay off."
Rigert added that she was "really excited that all of my hard work has paid off and that I have had the opportunity to be part of such an amazing sport."
The award is named after Tricia Saunders, who has won the most world wrestling titles of any U.S. woman and is considered a pioneer of women's wrestling. Rigert said she once had the opportunity to meet Saunders at a wrestling development camp.