Parkdale's Hutson Museum would like to encourage visitors to the museum by offering art and cultural events this summer.
"We would love to host interested artists in being an artist in residence on a Saturday afternoon, or part of a living history Chautauqua on a warm summer evening, inviting historic Parkdale/Hood River families to share their stories," said board member Mary Pellegrini.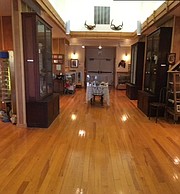 The museum will be open every weekend, Saturday and Sunday, through October, and many time slots are open. "It would be grand to schedule four or five events," Pellegrini said. "Columbia Center for the Arts suggested a Plein Art exhibit/demo as a possibility. We have quite a bit of indoor space, or events could take place out on the lawn."
The museum opened its doors in 1993 and before that, the exhibits could be found in the basement museum of Jesse Hutson's home on Cooper Spur Road. The museum tells the story of both the natural and cultural history in the Hood River Valley and surrounding area, and has a mineral and arrowhead collection along with relics from the world wars and pioneer life.
If you are interested in exhibiting or participating in an event at the museum, contact Pellegrini at Old Parkdale Inn Bed and Breakfast, 541-352-5551.