Double duty awaits Rich McBride.
McBride, a Port of Hood River commissioner for five years, was elected last week to the County Board of Commissioners, a position that takes effect Jan. 1, 2017. However, his term at the port expires June 30, 2017 — that means six overlapping months.
During that window of time, McBride expects he'll serve on two governing boards.
McBride ran unopposed for Position 2 on the county board in the May 17 primary election, succeeding Commissioner Maui Meyer, who chose not to run again.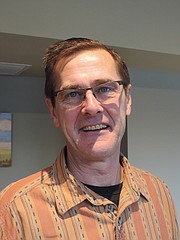 Dual leadership will keep McBride busy, but he anticipates the conflict of interest posed by the two posts will be minimal.
"We checked with the legal representatives for the port and county and found no problem with serving both roles," McBride said.
He plans to announce potential conflicts of interest or recuse himself in matters involving both the county and port. More common are issues that involve both the intertwined city and port jurisdictions, McBride said. His wife, Kate McBride, is a Hood River city councilor.
McBride, 59, is a Kansas City native who owned a whitewater gear business in Bend and has worked both as a contractor and car mechanic before moving to real estate five years ago. He is a broker with CopperWest Properties in Hood River.
One of his key accomplishments at the port was spearheading the Nichols Basin West Edge trail project while he served as port president.
At a port commission meeting Tuesday, commissioners gave their thumbs up to have McBride stay on at the port once he's sworn in at the county position.
"I was humbled by the support I got from the (port) commission," McBride said.
He also queried some of his friends and colleagues, including county commissioners, and they felt he was trusted for the dual role, he said.
McBride also feels up to the workload — at least for now. He's already been attending county commission meetings in addition to his elected work and day job at CopperWest.
At the county position, he hopes to bring a "creative eye" to issues facing the county, such as budget management and balancing the needs of the recreational community and forestry department.
---
The primary election last Tuesday was a fairly docile one for the county board, with no contested races. McBride will step into Commission Maui Meyer's spot on Jan. 1, 2017, but that marks the only turnover on the panel. Ron Rivers was re-elected to a sixth two-year term as County Commission chair, and Les Perkins secured a fifth term on Position 4.