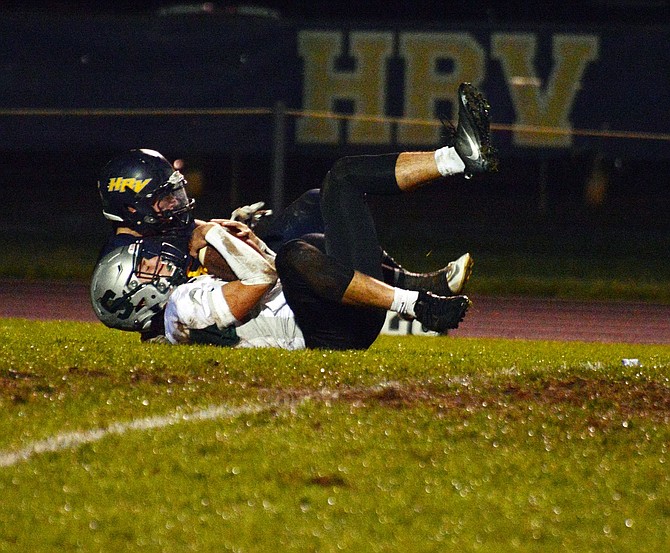 In their final game of the season, the Hood River Valley Eagles faced their most formidable opponent all year: the defending 5A football state champions and top-ranked Summit Storm. The Eagles weren't intimidated, though, by the huge challenge and they played very tough against Summit, particularly in the first half, before losing 38-10 Friday at Henderson Community Stadium.
The Eagles (0-9, 0-7 Special District 1), guided by Head Coach Caleb Sperry, held Summit (8-1, 7-0) scoreless in the second quarter and were in somewhat of a good position, trailing just 17-3 at halftime. As expected, Summit's momentum continued in the second half, though, as the Storm scored 21 unanswered points in building a 38-3 advantage on their way to the win.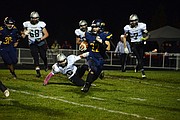 "It was a huge challenge versus Summit and our kids really did a great job of competing well against them," said Sperry. "We battled hard and everyone just came out and competed with a strong effort. It was pretty cool to see how hard everyone came out and played, particularly at the conclusion of a winless season like this."
Summit jumped in front early and took a 17-0 advantage at the end of the first quarter, led by senior quarterback John Bledsoe, son of former NFL quarterback Drew Bledsoe, who serves as the Storm's offensive coordinator. Bledsoe, last year's 5A Offensive Player of the Year, went 16-for-26 (62 percent) on 279 yards passing, scoring one passing touchdown, one rushing touchdown, and throwing a pick.
In the second quarter, HRV was able to slow down Summit's productive offense. The Eagles defense, led by senior defensive linemen Wyatt Mansfield (one sack, three tackles) and Andrew Rinella (team-high five tackles), was a highlight in the second quarter in holding the Storm without a score.
HRV got on the scoreboard in the second, capping a 10-play, 68-yard drive with a 28-yard field goal by sophomore placekicker Manuel Trejo, making it 17-3 with 5:05 left in the quarter. It remained that same score at halftime and the Eagles felt pretty good about just having a two-score deficit at the break.
Summit scored twice in the third quarter to take a 31-3 lead after three and the Storm got another touchdown in the fourth to go up 38-3. The Eagles got into the end zone for the first time late in the game with just 27 seconds left.
A three-play, 50-yard scoring drive was capped with sophomore quarterback Caden Leiblein's (12-for-25, 168 yards passing) 15-yard touchdown pass to sophomore receiver Brandon Rivera (six catches, 112 yards). Trejo's PAT made the final score 38-10. Leiblein displayed an impressive dual-threat ability in leading HRV's offense as he also had 14 carries for 100 yards rushing.
The eight seniors playing in their final HRV football game were honored in a pregame ceremony, while accompanied by their parents. They included Dylan Peterson, Derik Wingerd, George Torres, Mike Hall, Luciano Rodriguez, Justin Wilson, Mansfield and Rinella.
"Obviously, it was a tough season, but we improved and we're a better football team now than we were at the beginning of the year," said Sperry, whose squad played without injured starters Milo Schumacher (OL/DL), Michael Jones (RB/DB) and Connor Coerper (WR/DL). "The kids continued playing with a competitive spirit, just like they did all year. It was difficult sometimes during the season, because we were hoping to win some games, but the kids had a good perspective every week. The seniors competed hard and they provided good leadership for the team all year."
Summit's win was its 18th straight in the 5A classification over the last two seasons. The Storm's only loss this year was to 6A Clackamas. Summit hosts Crater in a first-round playoff game this Friday.