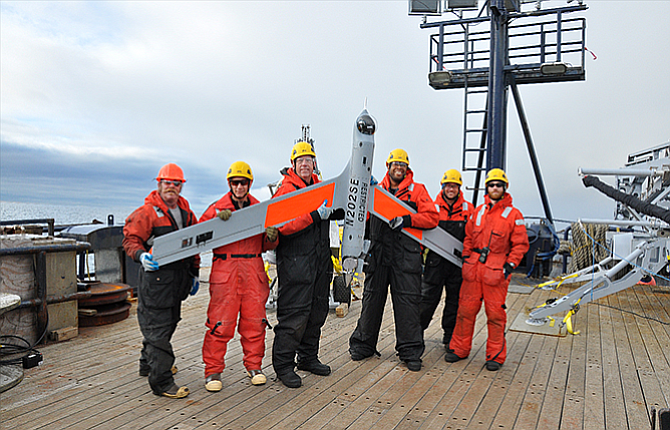 ScanEagle, the Gorge-made robotic aircraft that has logged almost one million hours of flight, has landed in the Smithsonian's National Air and Space Museum collection.
The most widely known product of Bingen-based Insitu, the ScanEagle X200 was inducted into the museum earlier this month.
Insitu officials believe the ScanEagle, long proven as a tactical observation tool for the military, is only now poised to make a mark in the area it was originally designed for: the commercial world.
In fact, it earned its Smithsonian wings, in part, on the heels of a recent accomplishment for a commercial client: It became the first unmanned aircraft to conduct a commercial "beyond visual line of sight" operation in the lower 48 states.
Typically, the Federal Aviation Administration requires unmanned craft to be kept in view of a human operator. But in October 2015, an Insitu pilot sent the ScanEagle a full 60 miles away, covering 140 miles of track overall, as the 10-foot-wide aircraft — and its payload of a high-resolution camera — helped Burlington Northern Santa Fe conduct rail inspections in New Mexico.
A year later, that same ScanEagle took its place along other nationally notable aircraft in the Steve F. Udvar-Hazy Center in Chantilly, Va., an annex of the National Air and Space Museum.
'... We know we make a difference in our industry by taking risks and never being afraid to do something.'
— Ryan Hartman
"Being able to have a ScanEagle in the Smithsonian is very rewarding to us because we know we make a difference in our industry by taking risks and never being afraid to be the first to do something," Insitu President and CEO Ryan Hartman said.
Roger Connor, curator of Vertical Flight, Unmanned Aircraft Systems, Instruments and Avionics for the Air and Space Museum, said, "This ScanEagle pioneered the integration of remotely piloted aircraft into the U.S. civil airspace system, including the first FAA-approved beyond visual line of sight operations (i.e. flying beyond the range of the naked eye). It is also one of the few remotely piloted aircraft to successfully bridge the divide between commercial and military operations."
Hartman said it was "very satisfying and very humbling for us" to be chosen by the FAA to be the first company to conduct the beyond visual line of sight operation.
Peter Kunz, a resident of The Dalles, is the chief technology officer at Insitu.
"I've been interested in aviation and airplanes my whole life," he said, "and it's truly a rare honor to be associated with an aircraft that's been inducted into the Smithsonian."
He joined the company 10 years ago, when it was "literally an order of magnitude smaller, so to see one of our core products honored, that was significant and very rewarding, and particularly the aspect for which this platform was recognized, which was utilizing it in commercial" applications, he said.
He thought the FAA operation "was a really good full-circle exercise in getting back to the roots of the company and the value of what they started."
By the time Kunz joined Insitu, ScanEagle was already a tool used by the military in Iraq and Afghanistan, serving as eyes in the sky to look for enemies and provide vital and life-saving intelligence.
ScanEagle evolved from engineer Tad McGeer's project in the late 1990s to develop an aerial scout for tuna fishing fleets.
Dubbed SeaScan, it helped tuna fishermen with remote weather-sensing and finding where schools of tuna were located.
SeaScan evolved into ScanEagle, and an initially skeptical military became an enthusiastic supporter and purchaser of the platform. Of the roughly 2,500 ScanEagles made so far, most are used by the military.
Now, ScanEagle is able to bring 15 years of experience and its nearly one million hours of operation back to the commercial market, Hartman said.
Commercial applications so far have included monitoring pipelines and wellheads, and calculating how much material has been moved at mining operations or for safety reasons, such as looking at berms to ensure dump trucks keep on the road, he said.
It has also monitored ice floes and forest fires.
"We had a contract once to go find an invasive weed growing in the outback of Australia. That was a unique one," he said.
Hartman envisions that in 10 years, the commercial use in the U.S. of unmanned aircraft will be commonplace, and spotting a ScanEagle overhead would be no more remarkable than seeing a plane.
"You'll see an unmanned plane flying over and you'll think nothing of it," he said.
The industry and the FAA have worked for years on how to introduce unmanned aircraft into national airspace.
Insitu led the way by serving as the test pilot, of sorts, for the FAA's "beyond line of sight" flights in 2013 in Alaska, culminating with the rail line inspection in 2015.
"The first step was to prove to the FAA that this was a safe operation and now we'll continue to work with the FAA and other customers to introduce the ScanEagle to a much broader market," he said.
Kunz said ScanEagle started as more or less a platform for a flying video camera. It has evolved over the years to support different types of cameras, as well as bigger and more capable payloads.
The ScanEagle is launched by a catapult and doesn't "land" but is captured by a hook strung on a rope. Its top speed is 92 mph.
Over the years, there's been a few changes "under the hood" with variations in engines and the ability to burn different kinds of fuel, Kunz said.
They're even looking at electric power.
"It's really been a highly adaptable basic platform that we've been able to modify and evolve over the years to do a lot more than what the original vision was for it," he said.
The years of military usage of ScanEagle served not only as a proving ground, but as a demonstration of the aircraft. "It was a broadly visible success story" for unmanned systems in general, Kunz said.
And now, "the market opportunity has become more apparent to a lot more people," he said.
Now the focus is on gaining the ability to fly in the national airspace. ScanEagle was the first drone to receive an FAA restricted category type certificate.
The ongoing effort with the FAA is "not just a desire for us to be allowed to go fly," Kunz said.
"It really is a partnership between us, the regulatory agencies and the customer to make sure the products, the unmanned aircraft and associated systems, not only meet the customer need but do so in a way that's safe for everyone involved."
The key safety issue is flying beyond the line of sight.
It's not only a technology problem, Kunz said, it's a system problem that will be chipped away with technology, training, procedure and communication with others.
"There's no one silver bullet."
Smaller drones are already commercially allowed for things like real estate photography.
But those are limited by weight, the height they can fly, and, most crucially, the "line of sight" restriction, Kunz said.
Still in its infancy is the access to the market and national airspace of larger drones like ScanEagle, which are intended to fly beyond the visual line of sight, he said.
Kunz said operators regularly guide ScanEagles 50 miles away from their position. "This is a 10-foot object 50 miles away; you can't see it."
Hartman, whose own background is as a Naval aviator — a career path inspired by hearing stories from his grandfather, who flew in World War II — is excited for the future of pilotless aircraft.
The potential uses of ScanEagle, he said, are "only limited by the imagination."