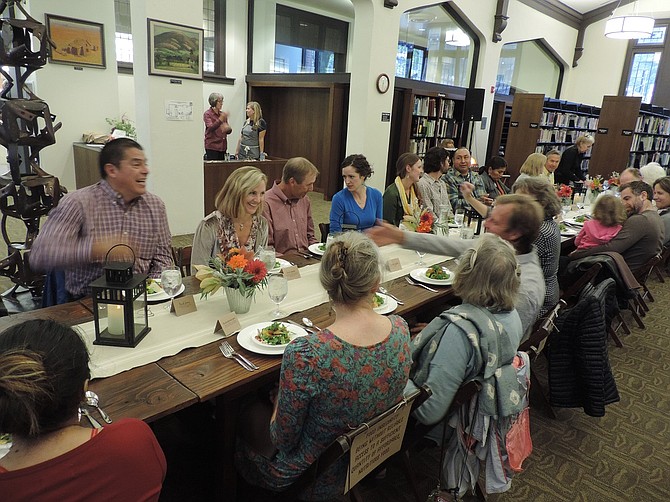 Collaborations that began in the fertility of summer reach their reveal in the season of harvest.
"Harvesting Our Stories: Tales of Perseverance, Abundance and Nature," has been a half-year community art project sponsored by Arts in Education of the Gorge and Gorge Grown Food Network.
In the culmination of "Harvesting," on Nov. 10 the Hood River Library hosts the screening of a film by David Hanson (story below) and community conversation about food insecurity at 6:30 p.m.
"It should be a fun and provocative conversation," said facilitator Kristy Athens, an author and food equality advocate. The former Gorge resident now lives in Wallowa, Ore. "Mostly I hope to encourage discussion within the group. I do plan to bring some information about hunger in the Gorge area," she said.
"People don't realize how pervasive hunger is, particularly in an area so abundant with fresh fruit and vegetables," Athens said.
Hanson's film includes scenes from the "Harvesting" dinner (by Celilo Restaurant) and art show, and a discussion led by Adam Davis, executive director of Oregon Humanities, held Oct. 7 at the library. Art sale proceeds went to Gorge Grown's Veggie Rx project, which helps provide fresh produced to low-income people, in a collaboration with community health clinics. (Arts in Education of the Gorge facilitated the "Harvesting" project under a grant from ArtPlace of America, via the Libraries of Eastern Oregon consortium.)
The project paired five food producers and five artists' interpretations of their work: print maker Chelsea Heffner and tribal fisher Brigette McConville; paper artist Virginia Flynn and ranchers Tim and Keely Jeffries; painter Cathleen Rehfeld and farmers Ben and Anastasia Saur; weaver Chloe Hight and orchardist Katrina McAlexander; and metal sculptor MacRae Wylde and wheat farmer Brad Anderson.
"We get to see the pairs, and the meat, beef, salmon, veggies and fruit, the fact that this is a land of plenty we live in but a lot of people don't have three meals a day," Hanson said.
"This project and a lot of our work in the last year has expanded our view of what a healthy community needs," said Sarah Sullivan, Gorge Grown executive director. "We have deepened our collaboration across sectors, including the health care world, an example is the Veggie Rx project," she said.
"I think art has always been used to bring the issues we struggle with into the light, and I think to bring the artists and the farmers and people concerned about the issues we are facing, together, through the art, is expanding all our views over what is possible."
•
Film celebrates intersection of farmers, artists
Documenting food and community needs is nothing new to filmmaker David Hanson, who has produced a 20-minute film "Harvesting Our Stories" to be shown Nov. 10 at Hood River County Library in downtown Hood River. The event is free and open to the public.
Following the 6:30 p.m. showing of the film, Hanson and others will hold a community conversation on food insecurity.
Starting in late July, Hanson has been meeting with five farmers and artists (details above).
"It shows a little slice of the farmers, work and place and what motivates them. And on the artists' side, we went to the studios and we hear them talking about their work," Hanson said of his film.
"You see the farmers in the practical day-to-day of their farms, and the artist coming in and dealing with light and shadow and shape and form, and how do you take this idea of what people are doing and put it into one static piece. It's been cool to see the personalities together."
Hanson enjoyed the range of spending time on Anderson's beef farm near Arlington, and its scale, and then compare it to "the small-scale, hands-on nature of the Saur farms up in Parkdale."
The challenge, he said, was trying to find "the right flow that can let us see these people working, see these beautiful places, and the food the produced, and bring it back to the challenge we face in the community of trying to feed as many people as we can with bounty of the Gorge."
Hanson, a native of Georgia, lived in Seattle before moving to Hood River two years ago. He has worked as freelance writer, including a four-year project on food justice in New York, and wrote a book, "Breaking Through Concrete" (2013, pp., University of California Press, 12 profiles of 12 urban farms around U.S.) Hanson said writing and editing led him to video and film the last five years, calling it "a rich way to tell the story." His brother and occasional collaborator, Michael Hanson, recently moved to Hood River.
•
Artists' statements
Cathleen Rehfeld
I have a love of nature, vibrant colors, and strong value contrasts in my work. I work on small paintings outdoors and bring the information, colors and compositions into the studio. When I work on large paintings, I utilize all my skills indoors to bring the joy of nature into our indoor environments.
On Ben and Anastasia's farm
I visited their farm on two occasions. I have known them both as community members, but I didn't really know of their life as farmers. I heard bits of it, but I didn't truly understand, until I visited their farm, how hard they work and how passionate they are about it.
Meeting them, their dogs and horses and painting at their farm gave me an emotional connection to what they do and why they do it. I came away wanting them to succeed; I want them to do well.

When I started painting, all the color, light and beauty began to take shape. The technical artist in me took over and I was consumed by the detail, scale and perspective. I wanted to capture what they see everyday on their farm. I wanted to express what they experience there in my painting. I painted several paintings. The work just flowed out of me. I think I now understand what we share, the farmer and the artist, a commitment to the work and just doing what we care about everyday.
Chloë Hight
As a practicing and teaching artist, my work is influenced by what is seasonally available in the local landscape. From observational drawing of flora to weaving with invasive and native plant species or creating natural pigments from foliage, I am constantly inspired by the ecosystem in which I live and explore.
On Trina McAlexander's farm
Walking around the farm with Trina, I was inspired by her knowledge of each plant and fruit tree we walked past. She introduced me to a one hundred year old apple tree as if it were one of her dear friends. She showed tremendous appreciation for the fruit is has provided for so many seasons. Trina spoke about her deep love of growing food and her desire for everyone in the region to enjoy the farm's harvest. "Our farm is your farm", as she explained the philosophy of Mt. View Orchards. Trina also expressed her interest in the educational aspect of farming, specifically being a role model for other women in farming. One of Trina's personal heroes is her mother, who is a long-time farmer. This one woman - her mother - inspired Trina to become the next generation farmer on her family's farm.
I wanted to create a piece of work that wove together the colors, smells and plants of the farm landscape. Woven fibers hold an enduring metaphor of growth and time, similar to the lifecycle of a plant and of all living things. I naturally-dyed wool and silk with pigment derived from two cherry varieties and native Oregon grape berries from the farm. Woven into the piece are plants I harvested from the farm including: daylily, hollyhock, wild asparagus, corn stalks, grasses, dahlia, and cherry, apple and peach tree branches.

Trina's dedication to sustainable, locally-sourced agriculture demonstrates the value in strengthening the relationship between regional food producers and consumers, thus weaving together a conscious community of people who can share and enjoy the bounty of locally grown food. Trina's story, the story of her family farm, are now a part of me. Her farm is my farm.
Chelsea Heffner
I am a multi-disciplinary artist, designer, teacher and the founder of Wildcraft Studio School. Regardless of the medium or objective, my work reflects a commitment to observation. Nature's patterns of light and weather, cycles of death and rebirth share equal inspiration with fundamental questions about female identity, habits of dress and objects of personal representation. My images, objects and products, often exalt, sometimes question, and frequently become seamlessly integrated as pieces of everyday life.

On the river with Brigette McConville
Watching Brigette work, seeing her connection to the fish and the river made me realize how the work she does is so much more than a job. It's a connection to her lineage, to strong and powerful women who have come before her and to her rights as a Treaty Tribe member to fish in the Columbia River. Watching her bead, seeing her artwork and hearing about her basketry and materials gathering had a profound impact on my piece. I wanted to represent her traditions, and the traditions passed down by her family members. The fact that Columbia Plateau Native fishing, food and artwork traditions have persisted, in spite the loss of land, the Reservation Act, boarding schools and the power of colonization, shows the strength and determination of a people to not just exist, but to thrive. Brigette embodies all of that and it was an honor to learn from her.
"Columbia Traditions" was drawn by hand; taking formal reference from traditional Columbia Plateau beaded purses. The drawing was translated into a four-color separation, and hand-cut using Rubylith masking film. Each separation was screen printed to create multiple color overlays.
Virginia Flynn
I was born and raised in Providence, Rhode Island. My parents had envisioned a future in business for me but my heart envisioned a future in art. My earliest memory of falling in love with the stark beauty of black and white originated with the attire of my early education teachers: nuns. Their voluminous black and white habit was a stunning visual, especially as they moved down the aisle, veil and skirts swishing as they passed my desk. Black and white, its sheer beauty and contrast, was imprinted on my artistic soul. Over the years I have studied art in different forms and mediums at various institutions across the country. Always I come back to papercuts. Again, black and white seduces me and I turn to black paper and an X-acto blade to produce the graphic images that speak so clearly to me.
On Tim and Keely Jefferies' farm
Part of the anticipation of meeting Tim and Keely Jefferies was the prospect of a mini road trip out to Grass Valley, a part of Oregon unfamiliar to me. The landscape unfolded softly, rounded hills and canyons, old homesteads, yellow grasses... a long stretch of road and breathtaking vistas as far as the eye could see.
I grew up in the city on a square of concrete. I always wanted to live on a farm. I loved the smell of manure and I even loved the smell of dead skunks on the road. The Jefferies' ranch was the stuff of my childhood imagination. Space. Cattle. Dogs. Gardens. Split rail fences. A long gravel road. And two of the nicest people I have ever met; Tim and Keely. Warm, welcoming, open, easy, fun, and clearly loving their lives, their livelihood, and each other.

Every detail of the visit delighted me. Everything I took in carried the same weight, the apricot trees were just as important as the cattle, the cattle were just as important as the windmill. How could I possibly create a papercut that would include the energy and vitality of my experience of the Jefferies' Ranch? I know. I will just start cutting.
MacRae Wylde
Art is perception. My work is made from stuff. I put things together. I am a materialist. I like to create a library of parts that I find interesting.
Sculpture comes from blending different parts. The best pieces come together quickly; even if they take a long time to complete, the idea can form instantly. I like metal, but work with whatever I have. I am always looking for materials, especially multiples. The parts come together to create the final piece. I try to have a reason for everything I do. Aesthetics, function, form, purpose, economy, pleasure, precedence, all get factored in to any project.
On Brad Anderson's wheat farm
I made two pieces for this project. Both are vertical in response to the vast horizontal landscape at Brad's farm. The first, "Harvest Totem" was made from used plow blades. They were worn down in different ways, some quite a bit smaller than the others yet all the same shape. I played with the pieces, trying different configurations. I wanted to find the best way to put all the parts together. This piece was the luck of finding an interesting shape in used farm parts. The other piece, "Arlington", is the one that really took shape by visiting Brad's farm and talking with him. His family has farmed the land for five generations. He does most of the work himself only getting help from his family during harvest. It is a big wide-open space without many people where views for miles with few trees and color comes in swaths. Blue sky, yellow fields, huge white windmills in the distance. The sculpture "Arlington" was designed to sit at the top of one of Brad's rolling hills, to break the horizon, poking up into the sky. It is designed to shake and vibrate in the wind. It is a contrast to the landscape and a complement to the environment; old, weathered steel standing tall, shaking in the wind.