Richard Wolf, project manger II, CH2M, shared at an early October Mosier City Council Meeting that CH2M had nominated Kathy Fitzpatrick, Mosier city manager, for the League of Oregon Cities' annual Herman Kehrli Award.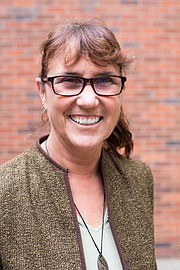 This award is given to a city employee who has made exceptional contributions to city government in Oregon, producing lasting benefits for their community.
Fitzpatrick has a long list of accomplishments for the city and community, which include:
• A customer service-oriented city hall
• Completion of the Rock Creek Stream Enhancement project in conjunction with other partners
• Reactivating the Mosier Pioneer Cemetery and facilitating the record keeping at both local cemeteries
• Developing and facilitating the Mosier community visioning efforts
• Being involved in the Gorge Hubs Partnership and Program along the Historic Columbia River Highway and Mosier specifically
• Demonstrating her key leadership skills in the June 3 Union Pacific Railroad oil train derailment, and aligning emergency services as needed for the residents of Mosier
The Kehrli Award was presented in Salem on Sept. 30 to Manzanita City Manager Jerry Taylor, who has served that community for 20 years.
"The Mosier city and community are proud of their leaders, be they from the Mosier Community School, Mosier Fire Department, and/or the city. We congratulate Kathy Fitzpatrick for her nomination," states a community press release.