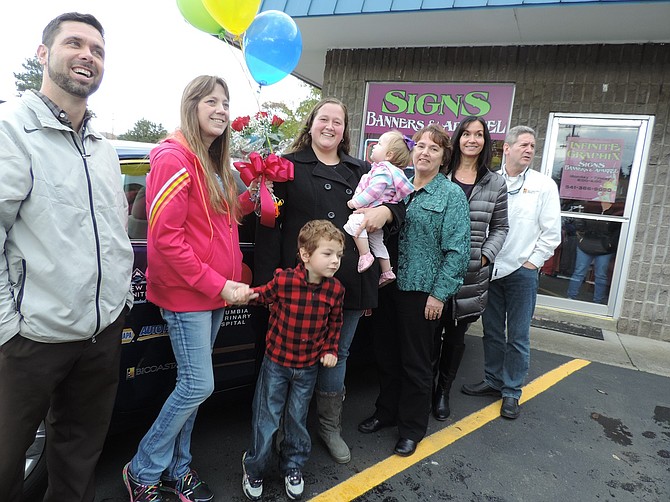 "I want a faster car!" said Kaius Johnson, 5, fueled by a new bouquet of balloons.
The 2007 Camry suits his mother just fine.
Crystal Wise of Hood River tearfully accepted a new set of wheels Tuesday in the second annual "Wheels of Hope" program, offered by the radio stations of Bicoastal Media and Mid-Columbia Medical Center. "Wheels of Hope" provides a family lacking transportation options with a vehicle to help them meet their daily travel needs.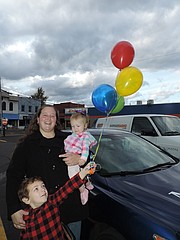 Wise's son, Kaius, happily took the bouquet of balloons that festooned the car, and ran in circles.
With Wise was Kaius, daughter Minerva Wise, 1, and Crystal's mother, Monique Newsom of Hood River, and friend Lisa Sollman of The Dalles. Sollman helped trick Wise into coming to Infinite Grafix on the Heights, where Bi-Coastal Media and MCMC representatives were waiting with the keys to the car.
"I'm amazed. This is such a big deal for our family," said Wise.
A total of 17 nominations tendered this fall were reviewed by a panel of judges made up of representatives from Bi-Coastal Media, Mid-Columbia Medical Center, sponsors and representatives from social service agencies.
They saw a real need in the case of Crystal and her husband, Casy Wise. Kaius, while full of energy, has a form of epilepsy and underwent brain surgery in July — might need another procedure early next year.
"We spent $4,000 on a car in Vancouver (in February) and it broke down on the way home," Wise said. "We spent $3,000 on repairs and as soon as they got it home the transmission started going out. We have been driving the car, with the transmission slipping, just hoping it will make it to the next appointment.
"Kaius might need more surgery, and we're going into Portland for more tests in a week, so this is amazing because I was worried about what might happen on the way into Portland, if that transmission goes out. It is not safe for my kids," she said.
Sollman and Bicoastal's Tammy Derks colluded in Tuesday's surprise. Wise explained, "Lisa wanted me to come eat lunch and get some pictures of the family, and she said, 'Let's stop by here (Infinite Grafix) first,' to apply for Blazer tickets, something about a giveaway." They went inside and were congratulated by Dianne Storby, MCMC's interim director and other Bicoastal staff, and interviewed by morning personality Randy Haines (KACI AM, KACI FM, KMSW, KCGB, KIHR).
"Oh my goodness. I'm really overwhelmed," Wise said. "Thank you so much to everyone who helped make this a possibility."
Wheels of Hope sponsors are Infinite Graphix, Riverview Marble & Granite, Maupin's Stoves and Spas, The Dalles Fruit Company, A Kidz Dental Zone, McCoy Holliston Insurance in Stevenson, Columbia Veterinary Hospital, Cascade Senior Care, Northwest Natural, Dean Dollarhide State Farm Insurance, Crestline Construction, NAPA Auto Parts in The Dalles, and Griffith Motors.
Sollman said that in her nomination, "I said how Kaius has had major issues and their car wasn't working and they could really use the car.
"I've known her since she was born, practically," Sollman said. "I remember going Easter egg hunting with her when she was five, and I was a teenager."
First stop in the new car would be "to go home and switch the car seats over so they can get a ride in it," Wise said.
But Kaius had other travel ideas. Gripping the balloons and weaving around the adults, Kaius exclaimed, "Can I fly away, Mom?"