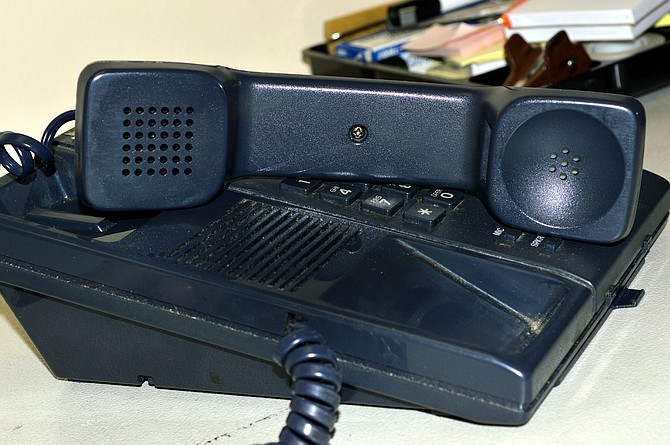 5 p.m. UPDATE
Hood River County Sheriff's Office reported at 4:53 p.m. that phone service has been restored in the county after a day of outages.
"CenturyLink advised that all phone service in Hood River County has been restored including 9-1-1 lines. We have tested and will be monitoring for continued service. Call 9-1-1 for any emergencies," the sheriff's office said.
---
Hood River County has warned residents and businesses that CenturyLink phone lines across the Gorge in four counties in Oregon and Washington — Hood River, Wasco, Skamania and Klickitat — have been out of service, with some cases of temporary restoration.
Hood River County's 9-1-1 emergency line is down. Phones aren't working for county staff either.
Hood River County School District and local hospitals, such as Providence Hood River Memorial Hospital, have also had phone difficulties.
Businesses in multiple counties, including the Hood River News office, have intermittently lost landlines and office lines.
The cause is a likely a "equipment failure," according to a news release from Hood River County Emergency Services sent out at about 1 p.m. Monday.
"Century Link is working diligently to reinstate these services. They will be working the rest of the day and night to reinstate services as quickly as they can," the news release reported.
How to access emergency services:
9-1-1 has set up a backup call in line to receive dispatch calls: 805-399-2711. If the line is busy, please call again.
Public safety radios are operable to contact Fire, EMS, Police and Sheriff
All county fire stations are staffed and ready to receive people that cannot get calls through on 9-1-1. You also will not be able to call your fire department.
Hood River Sheriff's deputies and Police are out in the community, using the public safety radio system that remain operable, and email.
Go to Providence Hood River Memorial Hospital or your health care provider should you need medical attention. The hospital's phone lines are also offline.
Emails to Hood River County staffs remain in service.
Key contact info:
Hood River 911 emergency calls temporary phone: 805-399-2711
Non-emergency Hood River Sheriff's reports: Got to www.hoodriversheriff.com, click "file a report" and then click "report a concern."
Wasco County 9-1-1 emergency calls: Dial 9-1-1 or 541-993-8911.
---
11:30 a.m update: GorgeNet is also experiencing phone service disruptions due to the Centurylink outage. From GorgeNet:
Since about 3:00 a.m. Sunday morning, Centurylink has been experiencing an outage in the Gorge that is affecting their Network as well as the service provided by several carriers including Gorge Networks. This is known to be affecting voice and data services on multiple carriers in the Gorge.
This outage is currently impacting Gorge Networks customers as follows:
•Calls cannot be completed to Centurylink customers gorge wide.
•Goldendale customers with DSL service are down.
•Calls to some cellular carriers are intermittent or down
•Some point to point, PRI and POTS customers are down.
•Calls from out of the area destined to Gorge customers are not being completed
GorgeNet customers can call other Gorgenet customers and can call out of area numbers as well. Centurylink voice customers cannot be reached via Gorgenet, nor most any carrier.
Most Gorgenet internet connections are up other than Goldendale DSL.
We have no ETA from CenturyLink for Service restoration at this point.
---
9:10 Monday update: City police's non-emergency phone line is also offline.
If you have an emergency please call 805-399-2711 to reach the 9-1-1 center, if busy hang-up and call back. Fire stations are still manned, but have no phone service.
A Centurylink outage has knocked out some phone lines throughout Hood River County, including the Hood River County 9-1-1 emergency dispatch center. Some phone connections have also been lost in The Dalles.
Hood River's 9-1-1 connection went offline Sunday morning. The county's dispatch center at 601 State Street again lost service on Sunday, and the phone connection was still down as of Monday morning. CenturyLink has been working with the Hood River County Sheriff's Office to resolve the issue, according to Facebook posts.
The city police's non-emergency line is also down. HRCSO encourages driving to your local fire department if you need assistance. http://www.hoodriversheriff.com/news/breaking-news
Here is a list of county fire department locations:
Hood River Fire Department -- 1785 Meyer Pkwy, Hood River, OR 97031
West Side Fire Department -- 1185 Tucker Rd, Hood River, OR 97031
Wy'East Fire Department -- 3431 Odell Hwy, Hood River, OR 97031
Parkdale Fire Department -- 4895 Baseline Dr, Mt Hood, OR 97041
Cascade Locks Fire Department -- 25 Wa Na Pa St, Cascade Locks, OR 97014