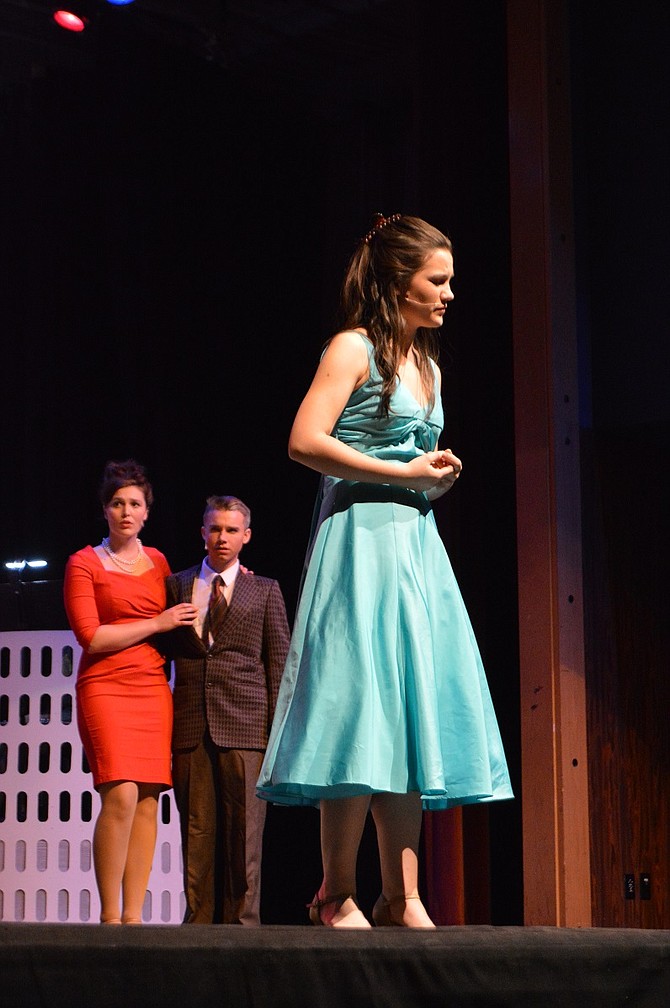 'Catch Me' closes this weekend
The Hood River Valley High School performance of the musical "Catch Me If You Can" closes this weekend, Nov. 11-12, with shows beginning at 7 p.m. Tickets are on sale at Waucoma Bookstore and at the door. Above, Brenda (JoJo Summersett) comes to grips with Frank Jr.'s identity (Sean Gray, not pictured) while parents Carol (Ann Maria Goodman) and Roger (Nathan Daniel) look on. The musical is under the direction of Rachel Harry and musical direction by Dan Kenealy. The show is rated PG for light language.
United Way concert benefit Dec. 4 with Aaron Meyer
It's a holiday benefit concert with rock violinist Aaron Meyer and his six-piece band and special guest singers The Brown Sisters. This year's show is also a tribute to Tim Ellis, a dear friend and guitarist of Meyer's band who recently passed away.
The concert is Sunday, Dec. 4, at 3:30 p.m. in the Gorge Room at Best Western Plus Hood River Inn. General admission tickets are $20 and preferred seating options are available. Tickets at Waucoma Bookstore or email unitedway@gorge. net, or call 541-386-6100.
All proceeds benefit United Way. Sponsored by Providence Hood River Memorial Hospital, Insitu, Les Schwab, Hood River Distillers, Hood Technology, ICE, Curtis Homes and Don and Bonnie Benton.
Secret Salsa Society meets
Join the Secret Salsa Society on Friday, Nov. 11, for a salsa dance lesson with instructor Javier Solis of Gemini Dance Company. Lesson begins at 7:30 p.m., social dancing follows at 9 p.m. Admission is $10. Beginners are welcome; no experience or partner necessary. Located at the Mt. View Grange, 1085 N. Main St. in White Salmon, Wash.
Blue Skies for Black Hearts at Springhouse
Coming up at Springhouse Cellar:
Tuesday, Nov. 15: Blue Skies For Black Hearts (Indie Pop)
Tuesday, Nov. 22: Austin Quattlebuam (Solo Folk/trad. tunes).
Music is from 6-9:30 p.m. All ages, no cover charge.
Springhouse Cellar, 13 Railroad Ave, Hood River; 541-308-0700.
Entertainment listings can be e-mailed to jdrake@hoodrivernews.com.