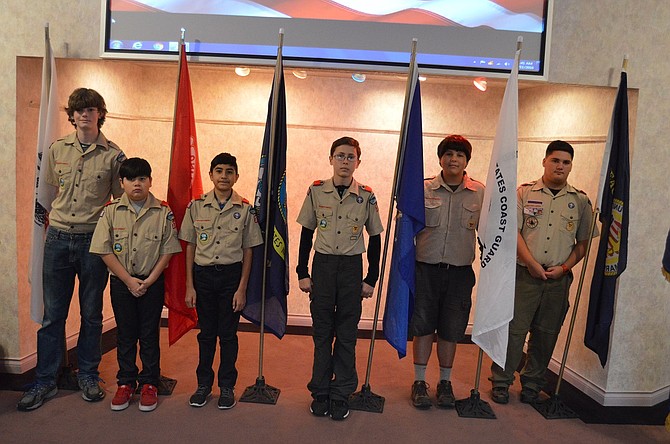 Annual traditions — and a new one — dawned Friday, honoring Veterans Day in Hood River.
A small crowd assembled at Anderson's Tribute Center on Friday, Nov. 11 at 11 a.m. to mark the holiday, a longstanding tradition.
"Some of us take Veteran's Day for granted," said Dennis Leonard of the American Legion in his opening remarks.
Judy Osborn and Nick Kirby recited poems after members of Boy Scout Troop 282 and 378, and Pack 282 and 392, posted the colors for all branches of the military; pictured above are Bryce Stanton, 14, with the Army flag, Xavier Castillo, 11, Marines, Phili Castillo, 12, Navy, Nicholas Arenas, 13, Air Force, John Erickson, 14, Coast Guard, and David Virgen, 14, Merchant Marines. Marshall Bailey, 15, at left, who recently joined Troop 282 after moving to Hood River from Bend, led the Pledge of Allegiance.
Afterwards, members of the Celilo Chapter of the Daughters of the American Revolution hosted a reception with plenty of treats for all.
New this year was a bell ringing ceremony at Hood River's Ty Taylor Fire Hall. The reverent salute honored veterans in the United States armed services. It was the first time in recent memory that the Liberty Bell-style instrument was rung in a ceremony.
The sonorous 21-bell National Salute was organized locally by retired State Trooper Gavin McIlvenna, vice president of the Society of the Honor Guard Tomb of the Unknown Soldier.
Attending were Mayor Paul Blackburn and six Hood River Fire staffers: Manuel Irusta, Paul Henke, Scott Tennant, Jay Geraci, Patrick Foss, and Jesse White.

Each took a turn ringing the bell in front of the fire station, pulling a length of twine to make it chime. At center of the photos, Irusta and Henke take on the duty.
Hood River City Council dedicated the Veterans Day salute, Blackburn explained.