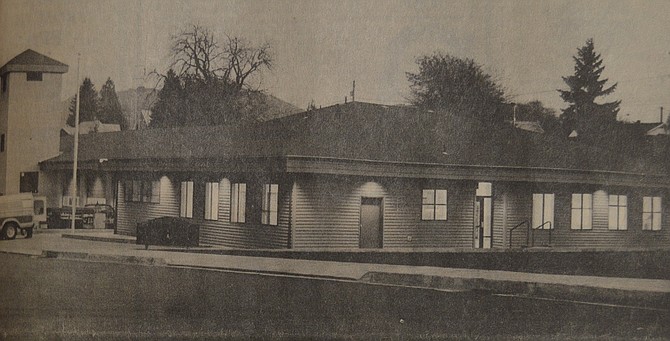 1916 — 100 years ago
November 23 will be Post Card Day. Every man, woman and child is asked to mail on that day as many cards as one sees fit to friends in the East, writing something in this vein: "If you have not planned your next vacation, arrange to spend it in the Pacific Northwest, where nature smiles all year round. We have the biggest out-of-doors on the continent."
1926 — 90 years ago
Last Sunday, members of the Hood River Crag Rats were all set to scale Wind Mountain when it was reported by one of the "Rats" that 40 tons of vinegar apples were at the Ralph Jarvis ranch, ready to be hauled to the vinegar plant, and nobody ready to haul them. Mr. Jarvis was making preparations to haul these apples when death called him. The Crag Rats at once postponed the mountain trip and, with a couple of trucks loaned by the Annala boys, became as active as the animals from which they derive their name. Every apple was delivered at the vinegar plant by noon on Sunday. The Jarvis family are very grateful to the Crag Rats for the kindly through which prompted their quick action.
VERBATIM: Leslie Butler In His 90th Year
Many residents on Tuesday went down to Truman Butler's office on Cascade Street to extend congratulations to Leslie Butler, who had, that day, entered his 90th year. Hale and hearty, as usual, Mr. Butler confessed that he had looked forward with more than a little anticipation to attaining his 90th year, and now that he had reaches his four score and 10th year, he was taking, quite seriously, the wish expressed by many that he might enjoy life for another 10 years and reach the century mark. Leslie Butler is in remarkably good physical condition for a man of his advanced age and might well be expected to attain the century mark.
He was at the office as usual on Tuesday morning and exhibited as much pep as many of those who, 20 or 30 years his junior, called on him to extend congratulations.
—Hood  River News, November 13, 1936
1936 — 80 years ago
With an award of $600 instead of the $13,250 demanded, the case of the United States versus W.H. Farrington, involving 13.5 acres out of a 362 tract of land one mile west of Wyeth, which will be subject to flowage on completion of Bonneville Dam, was decided in Judge Alger Fee's court at Portland this week. Farrington contended that his damage was $13,250 while the government had offered to pay the sum of $600. Negotiations have been pending for over a year. The jury awarded just $600. Federal agents report that the government expects to continue to be more than fair; in fact, liberal in determining the amount of damages to lands affected by flowage, but it will continue to contest any claims which it considers exorbitant.
1946 — 70 years ago
The Columbia Gorge Hotel is now locally owned, and extensive improvements are promised in the near future. O.W. Bauer, of Los Angeles, owner of this famous resort since 1929, today announced the sale of the hotel to E.L. Morton, E.A. Jakku, both of Hood River, and T.G. Larthrop, of White Salmon. This places the very beautiful resort hotel in the hands of local people for the first time in its history, Bauer stated, and he said he is very pleased to have it so owned. No statement as to the amount involved in the sale was mentioned.
1956 — 60 years ago
Leroy Childs and Gordon Brown of Hood River were honored Friday afternoon at the annual Oregon Farm Bureau convention in Pendleton, when they were awarded pins with 14 other state extension and experiment station personnel for 30 or more years of service. Both are retired from the Mid-Columbia Experiment Station here. Among the encouraging signs for agriculture mentioned by Dr. Gerald E. Korzan of OSC are an anticipated population increase in the northwest of 15 percent in the next years, the need for increased acreage in hay and forage, which will mean more pastures, and the need for greater quantities of processed fruits and vegetables, such as frozen pees and processed apples for pies and desserts.
1966 — 50 years ago
Cascade Locks — A community which hasn't had much pleasant news in recent weeks has received an optimistic word at last from its Urban Renewal committee. Wilbert Randolph, committee chairman, announced that a $47,000 federal contract has been signed here as the first advance phase of a plan to restart the community's business district. He also said the project will cost some $300,000 and that has been earmarked by the federal government for the west Hood River County project.
1976 — 40 years ago
Among the first Crag Rats were nine charter members, who were guests of honor when the mountaineering organization held its 50th anniversary here Sunday: George Iiams, Mace Baldwin, Harold Blackman, Bill Hukari, Eino Annala, Percy Bucklin, Fred Donnerberg, Arvi Annala and Sulo Annala. The nine are among 12 living charter members of the organization. Another, Andy Anderson, called from his home in California during the afternoon. There were 24 members when the organization was founded five decades ago.
1986 — 30 years ago
The signing of a bill declaring the Columbia River Gorge a national scenic area just might result in a financial boost for Hood River and a new tenant for Waucoma Center. Port of Hood River commissioners learned Monday that the port has been contracted by the U.S. Forest Service as a possible site for scenic area administrative offices. While other sites up and down the Gorge will also be investigated, "We think we have a good marketable product," Port of Hood River Manager Jim O'Banion said.
1996 — 20 years ago
Hood River Elks and four local businesses have followed United Way and the Ranch Drive-In by making large contributions for the new Jaymar skate park, located at 20th and Wasco Avenue. This week, the Elks Lodge donated $450 that was raised at a youth dance to go toward a preliminary site plan for the entire park. A total of $800 was also donated by Sign Media, Hood River Outfitters, Hood River Windsurfing and Dakine Hawaii for the purchase of a 20 by 40-foot canvas awning to cover a portion of the track this winter.
2006 — 10 years ago
Damage from heavy rainfall this past week has left its mark on Hood River County. Logs jam the waters at the Port of Hood River and boulders lay spread like a giant's toys across Highway 35. Several creeks have shifted course, among them Clark Creek and Newtown Creek. Several of the area sno-parks, including White River West and Boy Scout, are completely covered in rock. The Oregon Department of Transportation has closed the stretch of highway from milepost 61.71 at Baseline Drive to 80.08 at U.S. Highway 26 indefinitely.