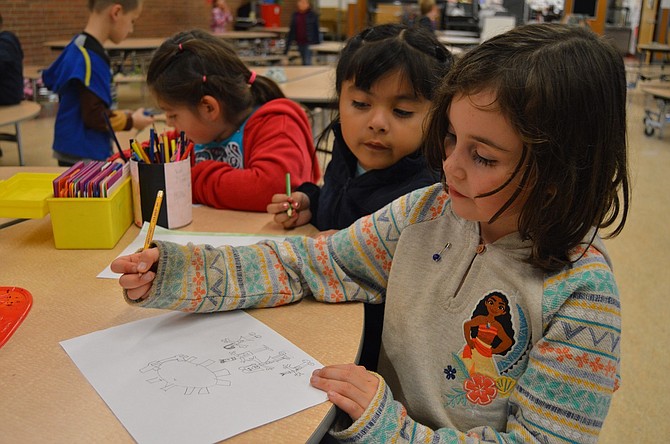 What's your favorite Thanksgiving recipe?
That's the question I asked students at Mid Valley Elementary and Horizon Christian School last week. "Turkey" was the overwhelming answer — but how to prepare it is a bit of a mystery.
Mid Valley second grader Maite Ulloa drew a picture of a turkey, but when pressed for a recipe, responded, "I don't know how. I never see people cooking a turkey."
Kindergartener Isaura Belen Magaña knew just what recipe she wanted to share — Dead Cooked Turkey — but wasn't sure how to prepare it, either. "First you shoot it," she offered helpfully.
Apparently, most kids haven't noticed the freezers filled with plastic-wrapped birds at the grocery store; Hunter Leeson, in the 1-2 classroom at Horizon, also took a "farm to table" approach, advising in his written recipe, "You catch a turkey and kill it then cook it and eat it." He then added a side dish recommendation: "You get a potatoe smash it entil its just right and I like butter with it."
These kids are big fans of butter, perhaps exemplified best by Horizon's Jacob Wolf — his picture of mashed potatoes had butter shooting out of it in every direction.
Some of the kids passed on writing a recipe — most of these were too worried about getting it right — but had very specific ideas about what a Thanksgiving table should hold.
Lillian Level, of Horizon, wrote, "I like to have scqosh and trkey and mash ptatos with ranch in them and froot sallid and apple pie and I like mufens with gravy in side them and green beens with gravy. With me ants and unckles and my mom and dad and me grama and cram barey in the jar on and sum time I have pumpin pie."
Mid Valley kindergartener Aya Elizabeth Yasui took a different approach: "Eggs/5, cupcakes/10, chrici/1, plets/20, fores/20." (That's turkey, plates and forks.)
"I lik to hav trcy and masht ptaytows and with tham I like grave and I like pamcan pie and iscrem," penned Jocelyn Worsham, grade 1-2, Horizon.
"My favorite food to eat is ham and turkey with smash potatoes," wrote Natalie Hernandez, a fifth grader at Mid Valley. "It's my favorite because it's the best."
It wasn't all turkey and potatoes, however — Abraham Villegas, Mid Valley kindergartener, said his favorite was Thanksgiving Jell-O — and provided the following instructions: "Use the recipes. Use the ingredients and the stuff to make it. Then eat it."
And yes, the meaning of the holiday — giving thanks — was evident in the kids' drawings, too. Mid Valley first grader Vanesa Quitana drew a picture of an outdoor Thanksgiving feast — with one turkey for the humans and nine plates of dog food for her pets. "Es el dia de acsoi de grasia," she wrote on the back. "I have more to say," she told me later, "but my hand hurts. You can have it now."
A selection of student recipes, in their own words:
How to make pupcin pie
You put 2 cups of flawr
You put 1 tee spoons of yeste
You put 1 tee spoon of solt
Then put blue berry jam
Then put it in the uvin for 2 hours
— Robert Wilson, grade 1-2, Horizon
Deviled eggs
Hard b eggs
Peper
Sult
Sesing peper
Chili poten
Mao
Musterd
— Samantha Kaiber, grade 3, Mid Valley
Oreo cheesecake
Filling:
Buder
1 cheese
1 milk
Eggs
Oreos
Sugar
Crust:
Flowe
Sugar
Sult
1 egg
Water
Oreo shells
Wipe cream
— Samantha Kaiber, grade 3, Mid Valley
Panc caks
This is haoo you mac panc caks you yous eggs and milk and the panc cak badr and then you cuk it and then you eat it.
— Eamon Johnson, grade 1-2, Horizon
Tuekey
Get tuekey
And cook de tuekey
Cook de turkey for 9
Den take de tuekey
Tak de turkey out oven
Eat de tuekey
Save some tuekey
— Jimena Castillo Vera, grade 1, Mid Valley
Potatoes
Peel the potatoes.
Put them in the pot.
Heet them up for 28m
Smash them up.
Put salt and peper on it.
Eat it!!!!
Then there's you masheded potaters.
— Annalese Rinella, grade 1-2, Horizon
Cheesecake
My mom first get a plate.
She gets the milk and water.
And then mixes it. And then she puts it in the oven.
— Gimena Macias, grade 5, Mid Valley
The Steaming Punch
Buy Hawaian punch and dry ice.
Put the Hawaian Punch into a black bowl. Then put the dry ice on a metal plate.
Put warm water on the tray. Then put the black bowl on. Enjoy!
— Cooper Yasui, grade 4, Mid Valley
Corn bred
Put frosting
Put edible beds on it
Then put a rapr on it
— Emily Hardin, grade 1-2, Horizon
Apple Pie
*Ask a grown-up to cut with knife.
3 apples (ripe)
Cut the 3 apples into fourths. Place in refrigerator.
Meanwhile … put 2 cups of milk, 1 cup of sugar, split 2 eggs. Mix batter and refrigerate. What you made: CRUST BOWL.
Put apples out. Get bowl and mix to mash apples. Put apples in crust bowl. *Use knife to cut around the crust, after put in refrigerator for 20 minutes.
Put the apple pie out of the refrigerator. Heat for 2 minutes. Take out and let it cool off. Last rule: ENJOY!!!!
— Makenzie Yasui, grade 2, Mid Valley
Patato with mleted chese
Koat it up.
Paot chese on it.
Paot in a pan.
Set timer.
— Faith Erickson, grade 1-2, Horizon
Stawberry and cheery milk shake
3 straw berry's
3 cheerys
6 cups of milk
Put ingridients in a cup with a lid on top and shake it and blend it when your done drink it.
— Rayla Yasui, grade 2, Mid Valley
Mash butaitos
You mash the butaitos and then you poot them in a pot and maik them soft. I like green bens and mash butaitois and muckybred.
— Karis Caldwell, grade 1-2, Horizon
Dne and chese
Get torta
Get dnse
Cut chese
Cook
Rap
— Alex Wilson, grade 1-2, Horizon
Invited to dinner
Joshua Serak, in the 1-2 classroom at Horizon, opted to draw a picture instead of transcribing a recipe — a perfectly acceptable alternative, I told the kids, as many were worried that their recipes weren't going to be correct.
As I made my way around the classroom to answer questions, Joshua kept calling me back to check on the progress of his picture. He'd drawn a Thanksgiving table, complete with fake turkey, real turkey and a turkey leg (and a light fixture above, he said proudly) — and two chairs in different sizes. One was for a shorter person, he explained, and one for a taller person. With a last-minute flourish, he decided to add two people to his drawing — himself on the taller chair and me on the shorter.
"You don't need a tall chair," he said, gesturing to my 6-foot frame. "And you're playing with the fake turkey." "I would totally play with a fake turkey," I told him, "and you're right, I don't need a taller chair."
Pleased, he said he was eating the turkey leg, and that I could now collect his picture — but first I had to spell my name for him. It's not every day you find yourself sitting at a tall table on a short chair playing with a fake turkey and wearing a pilgrim's hat. The picture is now hanging in my office. Thanks, Joshua.