Booster Club fundraiser at Springhouse Nov. 29
There will be a fundraiser for Hood River Valley High School sports, clubs, and activities Tuesday, Nov. 29 at Springhouse Cellars. The event will feature food, a raffle, a silent auction, and music by the Greenneck Daredevils. Highlighting the night will be a screening of the movie "Ruin and Rose," featuring a bonus edit by X Games phenom Sammy Carlson, who will also be on hand to sign posters. Doors open at 5:30 p.m. and the movie screens at 7. Tickets are $12 and can be purchased at Doug's Sports in downtown Hood River.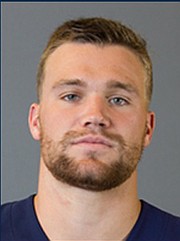 Hood River's John Jackson receives first team All-Conference football honors at Middlebury
John Jackson, of Hood River, recently received first team All-Conference honors for football at Middlebury College in Middlebury, Vt., which competes in the New England Small College Athletic Conference. Jackson, a junior who previously attended Deerfield Academy, led the defense in tackles this season with 61. The linebacker paced the NESCAC with 7.5 sacks, while leading the team with 11.5 tackles for lost yardage. Jackson was in double digits in tackles three times this season, earning 1.5 sacks in each of those three games. In a victory over Amherst, he finished with eight tackles, two forced fumbles and a sack. His 7.5 sacks this season tie him for fifth on the school's all-time single-season list.