Sanctuary: a place of refuge and protection — Merriam Webster.
Sanctuary city: official status by a city as resisting enactment of federal immigration policies.
The first of these two definitions is the dictionary one, the second is the practical question the City of Hood River is putting on itself.
Hood River City Council heard 13 people testify Monday on the question of designating the city as a sanctuary from looming immigration enforcement.
The council voted unanimously to instruct city staff to draft a resolution for consideration in the Dec. 12 council meeting.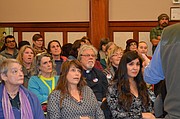 Most people spoke in favor of the sanctuary designation, but four citizens expressed opposition, and several council members urged caution given the Trump administration's vow to withhold federal funding to cities that do not cooperate with efforts to deport people considered illegal immigrants. All council members agreed a "strong statement" is in order, but some, including Councilor Mark Zanmiller, said the council should reserve the right to pass a resolution that does not involve the term "sanctuary."
Councilor Kate McBride said, "I'm pretty mad and feel pretty strongly that we should be a sanctuary city."
"This step is huge. This is really important," said Alejandro Aquilera of Hood River. "We need this for Hood River and the people who work in the farms, out in the county, where the danger is."
At issue with sanctuary resistance is allowing law enforcement officers or other city resources to be involved in the investigation or arrest of individuals. The resolution will be based on the one recently adopted by the City of San Francisco, which states, in part, "that no matter the threats made by President-elect Trump, San Francisco will remain a Sanctuary City. We will not turn our back on the men and women from other countries who help make this city great, and who represent over one third of our population."
'For people who are here illegally or who have family members who are, there was an amazing feeling of doom and darkness.'
Gabriela Pacheco
Supporters stressed that the decision was needed for city residents as well as those living in the county, and called on the city to serve as an example to other jurisdictions. Those speaking included HRVHS teacher Nan Noteboom, a county resident who broached the subject with Mayor Paul Blackburn three weeks ago, and retired teacher Regena Rafelson, who said, "This would preserve cooperation between law enforcement and the community, keeps families together, and communicates to the world that in Hood River, love trumps hate."
"I'm here to talk to on behalf of the people who can't be here, because they don't know how or they are afraid," said Yesenia Castro of The Next Door, Inc.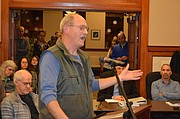 City attorney Dan Kearns said that while "it is not clear what the president-elect has in mind, he does not have the capability to deport people by fiat." City Manager Steve Wheeler said, "I'm not all that concerned, because of the lack of clarity" in Trump's intentions and legal capability.
On the federal funding question, considered at stake are city projects including the sewer outfall project and transportation planning, both in place, as well as pending infrastructure improvements such as traffic signals, and low-interest federal loans for future projects, but city officials do not have firm figures yet on how much the city could lose if the federal government cracked down.
"To me, the risk is almost reason enough to do it," Blackburn said. "People have come to us and said they are scared. Maybe it's good for us to be scared, too."
For people who are here illegally or who have family members who are, "there was an amazing feeling of doom and darkness," after the election of Republican Donald Trump, said Gabriela Pacheco of Hood River. She works as an instructional aide and counseled elementary students after the election who were deeply fearful that their families would be sent home.
"One little boy said, 'Trump won, we have to go, Trump won, we have to go,' in the hallway of school. He is five years old." A father of two is afraid to tell his children he might have to leave, even though his children, born here, could remain.
"The fears are real," she said.
Pacheco was born in Mexico and became an American citizen after three attempts by her family. Trump has said in the campaign that he intends to deport as many as 11 million people, which has the potential of dividing families.
"Please consider the health and safety of families and children," Pacheco said, "for people like I was for many years." She told her story, as a 10-year-old, of cowering near the border while a helicopter descended, bathing her and her family in floodlights.
But some, including Jerry Petricko of Hood River, said the sanctuary was unneeded and possibly illegal.
"What I haven't heard is how do we get these folks legal," said Petricko, who worked for many years at a Parkdale fruit packing house. "We need to make those opportunities to become legal. I don't think sanctuary is the answer. You really, really need to think of the ramifications will be for the community as a whole," he said.
"This is a bad idea," said John Dorsey of Hood River, who ran an orchard for 30 years. "We've gotten along fine since 1895 (the year the city was incorporated) without it and we don't need (sanctuary) now. These sob stories of helicopters: we don't have any helicopters here. We haven't had helicopters since the 1970s. And what's next, are we going to give sanctuary to child molesters or peeping toms?"
Mike McCarthy, a Parkdale orchardist, said sanctuary status could make things worse.
"We don't know yet how bad this is going to get," he said of federal enforcement action. "If I was Trump I might go to the sanctuary cities first."
Bear Trotebas of Hood River said he supports sanctuary in concept, but the city should first get a grasp on the potential federal dollar losses. "If it's two, three, or 10 percent, you need to know. And if it's not that much, you can then say 'Well, maybe we don't need them.'"
'This will be breaking the law," Clifford Lucas of Hood River said. "This is something we don't need to become, more of a Portland place than we already are," he said, referring to a city that has adopted a sanctuary status.