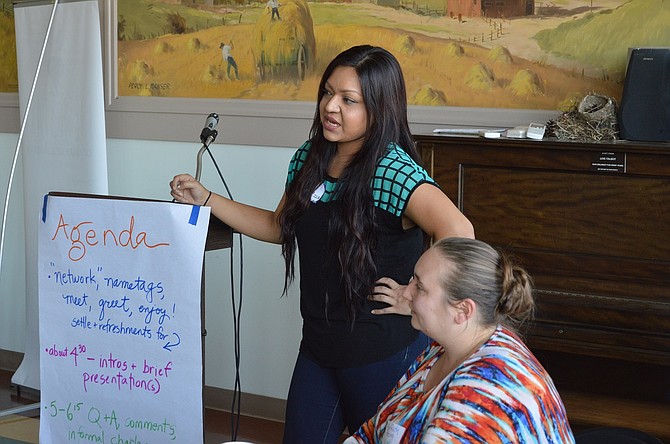 A group of about 20 gathered Monday at Riverside Community Church for an open house that introduced a new nonprofit immigration law office that opened in Hood River earlier this year.
Immigration Counseling Service (ICS), a not-for-profit immigration law firm based in Portland, opened a new regional office in the Union Building, 216 Columbia St., staffed by Lead Attorney MariRuth Petzing and Client Coordinator Brenda Orozco, with help from local volunteer attorney Diana McDougle.
The three were guests during the Sept. 26 open house, coordinated by Dr. Tina Castañares, to introduce staff and its work to a wide range of community members in various health, nonprofit and social service fields.
"We're here, we're open, and we're a reliable place to get questions answered," said Petzing. "We're a nonprofit; we're not trying to convince you to give us money. We're here to answer your questions."
Castañares, who was one of the first Spanish-speaking physicians in Hood River, had a private practice for a year before joining La Clinica (now One Community Health), where she worked for 25 years.
"My father immigrated from Mexico in the 1920s," she told the crowd during her introduction.
"To have a full service immigration law firm — that seems like a gift," she said. "I want them to meet other community members, so then we can help our neighbors know the information, too."
Petzing said the office is open Tuesday through Friday, from 9 a.m. until noon, and from 1-5 p.m.; calls are also taken during those hours. Potential clients are asked to first fill out a consult application — available in English and Spanish — so she and McDougle can get an idea of what is needed. Next, Orozco schedules an appointment.
Sometimes, it's a case they cannot take — they're an immigration consulting office, Petzing reiterated, and some legal issues, such as divorce, are something they cannot take on.
And sometimes, there isn't anything that can be done.
One of the best things they can do for a person is to tell them that their case cannot be taken, Petzing said — it can keep them from looking for help from unreliable sources, only to get into trouble with immigration services.
"There are scams," she said. "Attorneys will advertise on the radio … but they're doing shoddy work for money.
"If you don't actually meet the attorney, that's a bad sign," she warned.
ICS specializes in humanitarian and family-based cases, such as asylum, U and T visas for victims of serious crimes, VAWA for victims of domestic violence, DACA, family petitions, adjustments, consular processing and naturalization. ICS also assists unaccompanied immigrant children. But it's not a fast process.
"From start to finish, it could be three months or 30 years," Petzing said. "Anything less than a year would be amazing."
As far as fees go, "it's not so much a flat fee as how low we can make (costs) — but that doesn't cover operational costs," said Petzing. Therefore, they rely on grants for primary funding.
For more information, visit www.ics-law.org or call the office at 541-399-8029.