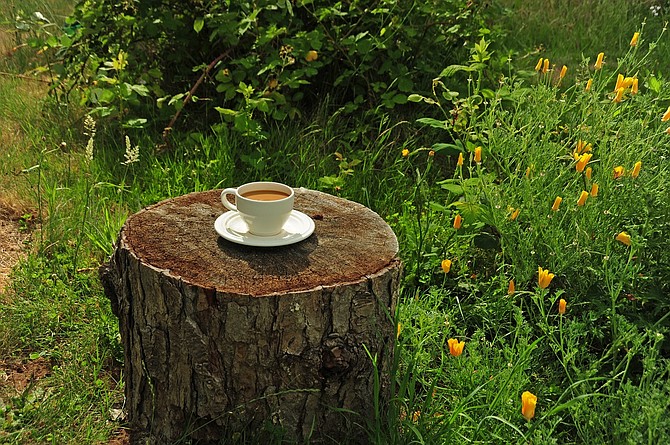 It started with a phone call at night last October from a concerned neighbor who knew we had cats — a cat was by the side of the road; could it possibly be ours? I shrugged it off but decided best to go take a look. When I came upon him, it was dark and I couldn't tell for sure, so I came back with my wife in the car and pointed the headlights on him, and I just dropped to my knees. He was warm and there was still a bit of earthly light left in his eyes, as if he held on until I got there. I wrapped him in a towel and waited until first light to bury him in the backyard. In that early light I promised him I would never forget and made a pledge to begin my mornings, coffee in hand, to sit with him in silence.
The unexpected loss of a loved one is painful. My mother passed over five years ago but not a day goes by that I don't miss her terribly.
But when a beloved pet is taken from you in the infancy of their life, it rips your heart wide open. It has been a year now since Jack was killed by a car. Since then, the daily ritual I started of having coffee with him at dawn has centered my life and put me on a path toward getting on with the work I am meant to do.
•
I have always been an early riser, so starting the day in my bathrobe and jammies at 5 a.m. in early October was no big deal. With the onset of winter, I needed to adapt, so I wrapped myself in a blanket and wore my mountaineering summit jacket and gloves and just pretended I was out winter camping. I admit to taking shelter during downpours and standing in my cottage window, looking out at my coffee spot. But with the exceptions of time on the road, I have kept my mornings with Jack, for it has become a sacred part of my life.
The spring and summer days would start at the 5 a.m. hour sitting facing east and over the next few hours witnessing so many miracles before the day even starts for most people. The pre-dawn, deep space blue sky slowly shifting to an ethereal powder blue to the first hints of a magenta morning. The first bird starts morning song, and slowly the chorus of feathered voices chimes in. While sipping coffee, I ponder deep mysteries, like who decides which bird sings first. Is it a lottery, with daily assignments as to who gets to conduct the first symphony of the day?
•
As the sun crests and the sky turns white hot, the light filters through my neighbor's giant oak and illuminates my white cup of coffee resting on my tree stump outdoor coffee table, found along a forest service road waiting to be repurposed.
From this spot where I buried Jack, I marvel at the wildness of the backyard that is all around me. There are designated wilderness areas which I am grateful to spend much time visiting, but from this holy place, everything the light touches is magic. You simply need to pay attention for the miracles are all around. The time lapse opening of poppies, the progression of blackberry blossoms into fruit that makes the best pie ever.
As I lean back, I look up through the canopy of a volunteer cherry tree, the leaves translucent with morning dew. I hear, feel, taste so much more with eyes closed now in a meditative state, being fully present to the moment. The plaintive wail of a single mourning dove, the sound of a neighbor's sprinkler, even the passing of early morning traffic all blend into the soundtrack of a new day.
By the second cup of coffee, my mind wanders into random forests of thought, like the notion of mandated celibacy for certain religious orders, or why people stay in jobs or relationships that are not meeting their needs, or if the election turns out a certain way, do I move to Canada where I have made many new friends in recent months? And letting dandelions grow! I think they are beautiful with their springtime carpet of green and gold. There is such a wonder in examining the symmetrical beauty of its seed pod and turning it as you blow the seeds to into the wind to be scattered and born again. Or the discovery that a Vermont woman had a 32-year, unrequited love affair with Pope John Paul until his death, to me, made him seem even more human. As a Polish American friend said to me, "Smart man!" Life is too short to stay bonded to man-made societal expectations for how to lead your life.
•
Now the chill of dawn has given way to comfort of 8 a.m. light, permeating my bathrobe and warming me from head to toe. Before I force myself to get dressed and tackle the work of the day, I linger a bit longer and contemplate how happy I am to be 60, full of energy and a lifetime of projects ahead to pour my heart and soul into creating. This past year of pondering and meditating during the quiet hours with Jack has brought me the clarity I have long sought about what I should be doing with my life going forward. From this moment on, I remain in pursuit of what Teddy Roosevelt called the search for an authentic self.
This time with Jack has taught me much about beginnings and endings, how someone can enter your life, take over your heart, and vanish overnight into a silent communion of memory. At dawn, all things seem possible. The failures of yesterday are grist for a better tomorrow.
Thank you, dear Jack for being such a good listener. Until we meet again . . .