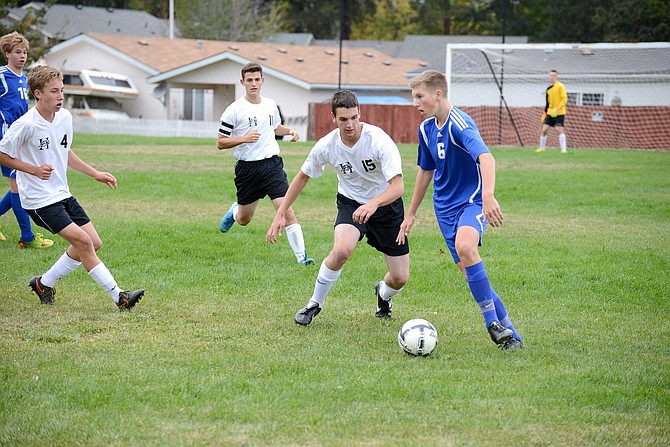 Buoyed by some key league victories the past couple weeks, the Horizon soccer team looks to secure a spot in the championship bracket of the 1A playoff tournament, which will get underway later this month.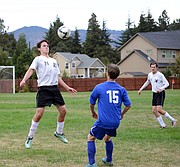 Horizon (3-2-3, 3-1-3 Special District 6) defeated Southwest Christian (3-5, 3-4) 5-0 in a league game on the road last week in what was the Hawks' biggest win of the season to date. Horizon then had a scoreless tie with the formidable North Clackamas Christian Saints (6-1-2, 5-0-1) in Hood River Monday.
Horizon gets to finish off the season by playing all three of the Special District 6 basement teams: Central Christian, C.S. Lewis Academy, and Oregon School for the Deaf, respectively ranked ninth, 10th, and 11th in the 11-team league. Those three teams have combined for a total of just two wins this season.
After Monday's game, Horizon sat in the fourth spot in the league with three games remaining in the regular season. The top four teams in SD6 qualify for the 1A championship bracket, while the teams in the fourth through eighth spots play in the consolation bracket. Umpqua Valley Christian/Melrose Christian is in the third spot with five wins, while there are several teams just below Horizon with three wins, making it easier for the Hawks to move down in the rankings as opposed to up.
Horizon Head Coach Andrew Stenberg has been pleased with the improvement he has seen in his team this season after the Hawks started 0-2. Last week's shutout of Southwest Christian was arguably the team's best effort to date.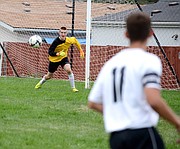 "The team played really well together. The win was truly a team effort as our five goals were scored by five different players — one of them being Luke Holste, who typically plays center defense for us," Stenberg said.
Tony Li, a frosh, scored what would be the game-winning goal on a header that came following a throw-in during the first half. Other goals were scored by Sam Schneider, Brady Lynn, and Andy Hung. Stenberg said keeper Ian Walker "had an incredible game" against Southwest Christian, recording seven saves and coming off his line frequently to chase down lose balls before the offense could get a scoring attempt. He had a similar attempt Monday, earning his third clean sheet of the season with six saves, while the defense "did really well at keeping the other team's forwards from shooting," Stenberg noted.
The Hawks will travel to the Oregon School for the Deaf (0-6) Thursday and then host their last game of the regular season Monday against Central Christian (1-5) at 4 p.m.