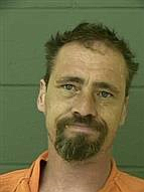 A Hood River man accused of dealing heroin was arrested Wednesday at his motorhome in the Post Canyon Drive area, the Hood River County Sheriff's Office said in a news release.
Steven Haracourt, 42, was arrested and lodged in jail on multiple criminal charges.
Mid-Columbia Interagency Narcotics Task Force (MINT) conducted an investigation into the illegal delivery and possession of controlled substances by Haracourt, according to sheriff's office.
The investigation led to a search warrant for Haracourt and his motorhome, which was parked in the area of Post Canyon Drive and Westwood Drive. MINT executed the warrants on Oct. 5.
Haracourt was arrested and charged with unlawful possession of methamphetamine, unlawful possession and delivery of heroin, unlawful possession of a firearm and possession of a restricted weapon.
He was lodged at Northern Oregon Regional Corrections Facility in The Dalles.
MINT was assisted in this investigation by Hood River County Sheriff's Office, Hood River Police Dept., and the sheriff's parole and probation division.
This is an ongoing investigation. Anyone with information in this case or any drug related case is encouraged to call the MINT Tip line at 541-296-1885.