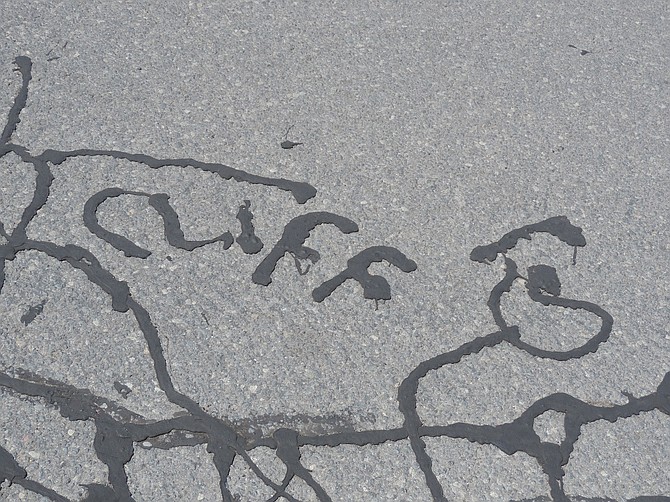 WELL SAID: "Ours is the age that is proud of machines that think and suspicious of men who try to." — H. Mumford Jones (1892-1980)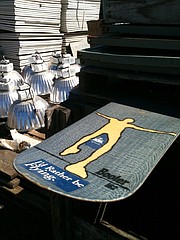 WELL DONE: Mt. Hood Snowboard team is selling pears donated through the School Aid program, to support its travel and other costs. It's a great way to enjoy local fruit and support local athletes, thanks to the generosity of Mt. Hood Organics. The team is selling 10 pounds of organic pears for $15. If you want a box — and you do want a box — please email Colleen Jones at colleen@pistildesigns.com.
DEPARTMENT SQSP: Simple Question, See Photo: At Gorge Rebuild It Center, what was a snowboard with an "I'd rather be flying" decal doing sticking out of a stack of siding?
SIGN OF THE WEEK: At Dirty Fingers Bicycle Repair: "Don't ever buy your bike where you buy your peanut butter."
BUMPER STICKER of the week: "SLOW DOWN: This ain't the mainland." The well-worn sticker was on a Washington vehicle, so was the car once from Oahu — or Orcas?
SAVE THE DATE: Oct. 20, 7:30 p.m., the second in the new Salon series, at Stave and Stone Winery. Salons are evening entertainments around a theme, a collection of poetry, drama, and music presented by members of Columbia Gorge Orchestra Association Stages. This month: "Oregon, Washington, and Water," guided by Greg Gilbertson, featuring the work of Raymond Carver, Tess Gallagher, and others.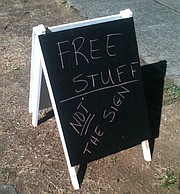 FREE FILES: The chalkboard message (see photo) says much about the transitory hazards of setting out "free" stuff. On another street, a big cushy couch with a "free" sign on it quickly gains a layer of falling acorns. (Last issue of The Porch featured a chair in need of repair by a "team": within days the chair was on a yard waste heap at the same location.)
HALLOWEEN'S-a-comin': A youngster pauses on his way home from school to work the handle on the fake, yet realistic, electrical box marked "hazard" at a May Street home, near May Street School. The box, exuding a couple of creepy looking tentacle tube things, and a sign reading, "BEWARE" are hints of what is to come at a corner home famous for its elaborate, imaginative ghost-and-ghoul décor.
SEEN AND HEARD: Man sitting in car, engine idling, with cranked-up "Running on Empty" by Jackson Browne … high schooler buying 7 a.m. donuts for her Air Guitar team … grandparents walking a recalcitrant second-grader to school …
Got some pleasant item to leave, anonymously or otherwise, in the niche known as The Porch? Send it to kneumannrea@hoodrivernews.com.