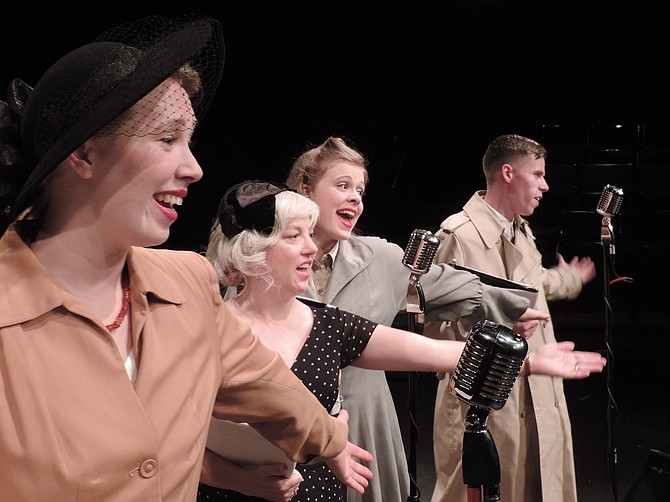 A double dose of classic stories forms the third annual radio theater production at Columbia Center for the Arts, with faithful takes on the classic stories "The Maltese Falcon" and "Casablanca."
In 2014 and 2015, many of the same performers were involved in radio performances of "Miracle on 34th Street" and "It's A Wonderful Life."
This is "radio" in the retelling, and in style, but also a staged performance where there is as much to watch as there is to hear, with costumed actors interplaying, and the "behind-the-scenes" feel of seeing the actors' and crew's coming-and-going while putting on a radio play.
"Each time we've done a radio show, we walk the fine line between recreating a realistic experience of a 1940s cast performing for an audience of 'listeners at home' and creating a performance that is visually appealing to our live studio audience coming to see the show at the theater," said Director Charlie Mortensen.
Both stories have romantic leads, femmes fatale, thugs and villains, and humor. The CAST production, as usual, features music by Bill Weiler, an announcer (Ray Abanto) and sound effects, along with interspersed songs by the quartet The Columbiaires (photo above), this year in its fifth total iteration including its first male singer. Erik Lundby handles the parts of both hard-bitten detective Sam Spade and jaded expatriate bar owner Rick Blaine, and in the female leads are Dana Rae Tickner as Bridgette O'Shaughnessy in "Falcon" and Emelie Pennington-Davis as Ilsa Lund in "Casablanca."
"The Maltese Falcon" film, from a Dashiell Hammett original story, is a classic in film noir. It featured Humphrey Bogart as Sam Spade. "Casablanca" (1942) featured Bogart as Rick Blaine and Ingrid Bergman as his former lover, Ilsa. It is based on the 1940 play "Everyone Comes to Rick's" by Murray Burnett and Joan Alison. The first "The Maltese Falcon" film was made in 1931, with Ricardo Cortez as Sam Spade.
Originally, the Lux radio theater company adapted the Hollywood screenplays for a one-hour radio broadcast hosted by Cecil B. DeMille. CAST's scripts come from the Generic Radio Workshop (GRW) Vintage Script Library. The GRW troupe lead by Larry Groebe and Julie and Paul Barrett transcribes and produces live theater adaptations of these radio shows.
"While we did not try to emulate the Hollywood production of either show, we did listen to a variety of radio productions of the titles to hear the pacing and general tone," Mortensen said.
"While some were more comical (especially the shortened versions), we decided to stick with the more dramatic interpretation and strove to bring our audience into a gritty world of deceit and scandal to emphasize the tough choices our heroes in the story (Sam Spade and Rick Blaine) need to make to follow their moral compass.
"The trick is deciding which format takes precedence in each choice we make to get the best of both worlds as we will be broadcasting the show on Radio Tierra," Mortensen said. "We include a few minor costume changes to help them see the change in characters and often include gestures and other stage movement that would not be necessary for a radio-only performance, but helps to keep everyone in attendance each night engaged as well.
"The actors have done an amazing job of balancing a connection with the live audience without sacrificing the sound quality by facing the mic more while speaking and limited movement that creates too much noise like shuffling feet or bumping the mic stand."
Assistant Director Maza Brady wrote all the commercials, choreographed The Columbiares "and picked up so many details along the way to make this show a reality," Mortensen said.
"I have deeply enjoyed the entire process, especially working with some actors new to theater and watching them blossom as they took on their roles and brought them to life," Mortenson said. "I cannot say enough how much I appreciate the true community spirit of this show as well. I cannot thank everyone in the cast and crew enough for all their support and independent creativity and problem solving on this project.
"I have also enjoyed the enthusiasm and dedication this cast has brought to the table, especially Erik Lundby, whose input and suggestions have helped everyone develop a natural and entertaining interpretation of their roles. I am also so impressed with Rosemary Shepardson and Katherine Green for their work in the Foley pit (sound effects). Their intuitive additions to the background sound really help the audience feel like they are really in the show with us."
Mortensen said the actors worked on developing not only the regional accents for "Casablanca" but also the specific cadence and dialects common in the 1940s to help the audience "travel back in time with us."
"'They also appear dressed as radio actors from the period and wrote backstories to help them get a feel for what life was like before, during and just after World War II."
Tickets and Times
"The Maltese Falcon" and "Casablanca," suitable for all ages, is two one-hour plays with a 15-minute intermission. It runs Oct. 14-15, and 21-22 at 7:30 p.m. and Oct. 16 at 2 p.m.
Tickets are $20 for adults, $15 for students and seniors 62 and over, and $15 for groups of 10 or more. For group tickets, visit the Center or purchase at 541-387-8877 ext. 115.
Tickets are available online at columbiaarts.org, Waucoma Bookstore and in the Gallery, 215 Cascade Ave.
•
If you miss it — the Lux Radio show will broadcast on Radio Tierra (95.1 KZAS) on Oct. 29. and Oct. 30 at 7:30 p.m.
Cast and Crew
Charlie Mortensen Director
Ray Abanto Producer, Announcer, Sam
Maza Brady Assistant/Columbiaires Director
Harold McBain Technical Director

Sam Bauch Costumer
Kathy Williams Backstage ninja
Adrian Chaton Backstage ninja
Paul Hargrave Sound Operator
Bill Weiler Musical Director, Casselle, Gendarme, D.A.

Gary McFarlen Cairo, Gutman, Strasser, Ugarte
Rosemary Shepardson Columbiaire, Sacha, Foley Artist
Elena Lundby Effie, Carla
Brennan Rogers Columbiaire, Archer, Dundy Renault,
Emelie Pennington-Davis Columbiaire, Isla

Meaghan Green Wilmer, Ferrari
Erik Lundby Spade, Rick
Dana Rae Tickner Columbiaire, Brigid, Heinze, Berger
Jeff Morgan Polhaus, Man/Capt. Jacoby, Laszlo

Katherine Green Foley Artist