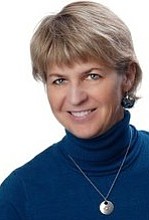 Jan Veldhuisen Virk will depart from school board in February after 18 years.
Among local positions, Veldhuisen Virk has been in office longer than most other elected officials currently in office in Hood River County.
She announced her decision Wednesday at the school board meeting. In a letter submitted to Superintendent Dan Goldman, she said, "I would like to announce my resignation from the school board effective Feb. 1, 2017, as this will allow time to interview for my replacement. For numerous reasons, I feel that it is time for me to move on.
"I have served as chair and vice chair for many years. I have been on countless committees, and helped with all of our campaigns for local options and bond projects.
"Over the past 18 years, I have worked with six superintendents, three board secretaries, and several dozen board members. Each of them contributed their own strengths to the board, and helped to shape the school district that we have today. With passage of the most recent bond and the quality leadership we have with Superintendent Goldman, I feel confident that I am leaving the district in good hands."
I am sure the board will find a qualified replacement that will continue to lead the district to success.
"Thank you all for the good times and the late nights. It has been quite a run."
Veldhuisen Virk and her husband, Dr. Dick Virk, have three daughters, all of whom attended Hood River schools.