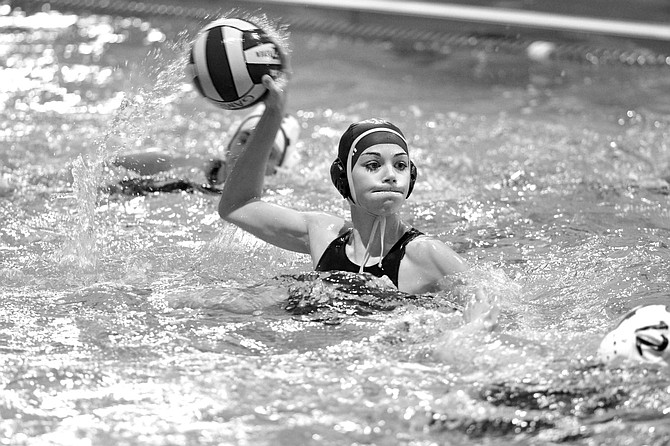 Hood River Valley Girls Water Polo took a key match from the 6A powerhouse Barlow Bruins Tuesday, a game that Coach Kellie Dunn said "was also pivotal for us in that it likely helped us secure a first place finish in the Mt. Hood Conference," which is mixed 5A and 6A teams.
"We beat them for the first time ever earlier in the season in our home pool, so we knew they were coming to Hood River hungry for revenge," Dunn said.
On Thursday the Eagles prevailed at home against a tenacious Sandy squad, 14-4, led by Rose Finstad's four goals and three goals each from Faith Ochesky (five steals) and Jamie Robinson (who added four assists), and four saves by goalie Kat McElderry. This weekend, they head to a multi-team tournament in Portland.
The squad is primed for a post-season run, according to their coach.
"We still have other games to play out, but Barlow has really been the team that serves as the biggest threat to that title.
"Barlow is the perennial powerhouse in our conference and tends to be in the mix at 6A State as well," Dunn said.
"If we lose a couple games to other teams then we won't get it, but with how the team has been playing things are looking good for us."
The girls defeated Hillsboro on Monday, 18-5. Scoring was evenly distributed, topped by Courtney Castaneda with four, Robinson with three, and two each for Finstad, Allie Burke, Lauren Orr, Sloan Hall and Sarah Gottschalk, with Ocheskey adding one. The same could be said for assists, with two each by Amber Kennedy, Ella Mudry, Castaneda, and Robinson.
Against Barlow, Dunn said the team "struggled in the first half, but hung in there.
"Barlow played really physical and we weren't getting the calls from the ref we are used to getting from other teams," she said. "It took us into about the third quarter to really come alive and play through the different style of play we were up against.
"Once we made those adjustments and made the decision to keep pushing through those battles, everything fell into place both offensively and defensively."
The Eagles won the fourth quarter by shutting out Barlow completely and scoring four goals.
"I'm extremely proud of how these girls pushed through tonight and came out on top. We haven't seen much adversity in our other games this season (other than our previous game against Barlow), so it was really incredible to get to watch them rise above what was going on to take the win," Dunn said.
"The teamwork really showed tonight and it was truly a team win, especially when you look at the stats and how much things are spread out around the team.

"We won the game 14-4. We went up by the first quarter 5-0 and then slowed the pace down to focus on running our offensive drives and plays. Sandy definitely came to play and gave us a very different showing than the first time we met this season.
"Our team took the game seriously though since this was a 5A team we have to beat in order to qualify for the state tournament."
•
Against Sandy, Castaneda added two goals and Finstad and Orr posted two assists each. Robinson had four steals, and Gottschalk two.