I'm voting yes on Measure 97 because:
Measure 97 will invest in schools, seniors, and health care.
As a teacher, I've seen the disastrous disinvestment in our public school system over the past decades. Measure 97 is a corporate tax that will make large out-of-state corporations pay their fair share so that we can fund education and health care. Oregon has fallen behind other states measured by class size, graduation rate, and length of the school year.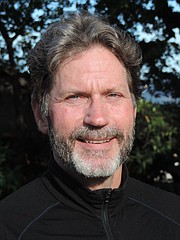 Measure 97 will hold corporations accountable for their share of essential services.
The cost of doing business in Oregon includes funding schools and taking care of our most vulnerable citizens. Only large corporations doing more than $25 million in sales in Oregon will pay. Those are corporations like Comcast, Monsanto and Wells Fargo. Our local small businesses and farms will not be taxed under Measure 97.
Oregon is dead last — 50th in the nation — in corporate taxes.
Measure 97 makes sure corporations in Oregon pay taxes like the rest of us. It will move Oregon from 50th to 42nd place nationally in corporate tax rate.
Measure 97 shows that we will stand up as voters and consumers, and refuse to be pushed around by scare tactics and deceptive media campaigns.
Hugely profitable corporations like Chevron and Comcast pay almost nothing in taxes in Oregon. These corporations are spending millions saying the same thing they always say: that the tax will get passed on to us. The argument that companies will simply pass along costs or leave the state is a scare tactic. Corporations set national price standards for sales in states with different tax systems.
Measure 97 requires that corporations step up and return part of hidden profits to pay for services that we all need.
Large multinational corporations pay their CEOs, boards of directors, and top executives salaries that are hundreds of times the pay of average workers. Yet, they rely on our education system, senior services, and health care system to serve their employees and consumers. While workers' wages have stagnated, health care costs have skyrocketed, and students and seniors are suffering.
Measure 97 is a game-changer.
Measure 97 will produce enough revenue to get Oregon back on track and moving forward.
Mark Reynolds of Odell is running for House District 52 as a Democrat.