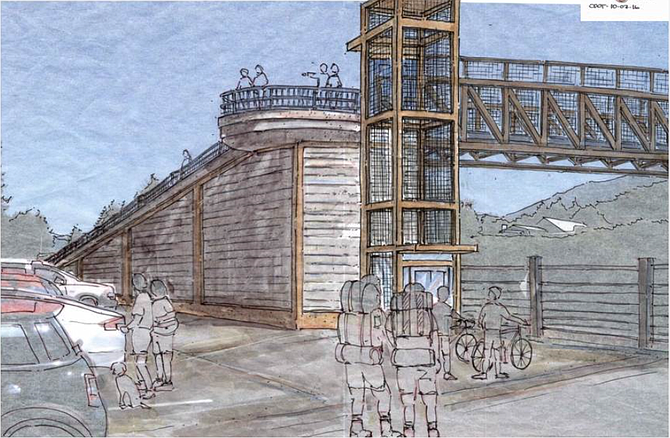 A raised pedestrian bridge will connect Cascade Locks' business core to the riverside Marine Park, if plans reach fruition.
For years, the Port of Cascade Locks and Oregon Department of Transportation have considered an overcrossing project. The new bridge would start at Overlook Park — by the U.S. Post Office on WaNaPa Street — then span about 20 feet over Union Pacific Railroad's tracks to culminate at the port-owned park, which hugs the Columbia River.
Safety concerns roused the idea. The proposed bridge would give walkers and cyclists a less hazardous entry to the park than the narrow, dim tunnel they currently share with drivers.
The port received an earmarked $800,000 in federal funds for planning, design and engineering of a railroad overpass — originally for vehicular and pedestrian use — tying the Historic Columbia River Highway to Marine Park. In 2014, however, the legislation was reprogrammed to include cyclists and pedestrians only.
Plans have come into sharper focus this year.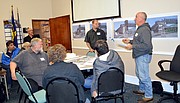 A workshop held Wednesday night at Cascade Locks City Hall gave the public a chance to look at plans and weigh in. About two dozen people attended. ODOT representatives and local elected leaders then held a round table discussion to pin down consensus.
"The current commission and the past commission have been working on numerous plans with the ODOT team here over the past two to three years, trying to come up with the best plan for us and the community," Port President Jessie Groves said.
"We need (access for) bicycles, we need walkers, we need people with disabilities … that might not be able to reach the park otherwise," Groves said.
Most speakers preferred an overcrossing with both a ramp and elevator, allowing for diverse uses.
"I'd just say as a cyclist, my favorite option would be a ramp," Dave Lipps, of Cascade Locks, said. "The last thing a cyclist wants to do is get off their bike, go down the stairs, or down an elevator."
Michael Broncheau, fishing site maintenance manager with Columbia River Inter-Tribal Fish Commission, encouraged the port to include designs that will accommodate native fisheries' in-lieu access on the river. He suggested an elevator would help with their foot traffic.
Brenda Cramblett, a former port commissioner, urged expediency. "This has been going on for so long and I have had a real interest in this," Cramblett said. "Let's just get a decision as soon as possible, get going on this, because we need it, period."
The project is still in its early stages — the port hasn't secured the total funding, and Groves suggested initial groundwork to map out the project may begin next spring.
Cost estimates ranged from $3-4.5 million, based on how elaborate the construction, and whether the ramp and elevator will play a role.
Nowzar Ardalan, ODOT bridge engineer, estimated the bridge would have a roughly 75-year lifespan. Maintenance of the stairs and elevator, however, would demand more extensive regular maintenance by the port.
The federal earmark from which the project stemmed will fund about 30 percent, while the port will seek grants to make up the remainder.
"We have to have a shovel-ready project before we can go try to get grants," Groves explained.
The new bridge will unite several public destinations in the works by the city and port.
Earlier in 2016, the City of Cascade Locks received a state parks grant for $125,000 with a $50,000 match to construct a Gorge Hub — a bike service and tourism center — at Overlook Park, which will tie together the Columbia River Historic Highway and the overcrossing project.
Meanwhile, the port has entered a master plan for Marine Park, which identifies updated uses for the park's grassy (and sandy) expanse, such as trail developments along the river's shore.
To comment on the overcrossing project, go to ODOT's public survey at www.surveymonkey.com/r/MarinePark.