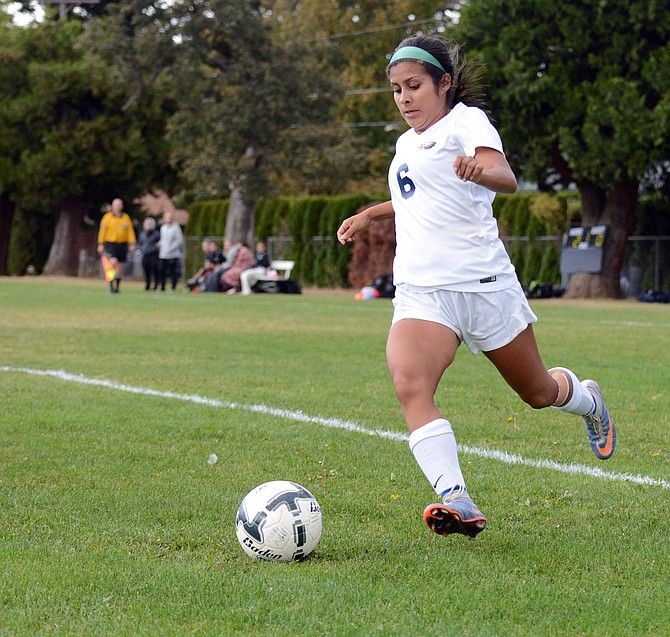 It took a late effort by senior midfielder Mona Diaz to put the Eagles over the top, but for the seventh season in a row, the HRV girls soccer team has won the Columbia River Conference title, shutting out Hermiston 1-0 Tuesday evening on the road for the honor. It was HRV's sixth consecutive win.
"The team is happy," said HRV Head Coach Kevin Haspela, who has presided over all of the team's CRC wins. "It feels great to be able to set out after something difficult and achieve it."
It was also the 10th win of the season for HRV — a goal Haspela had set for his team to achieve along with the CRC title. And while the 10th win of the season is a nice milestone, the CRC title gives the Eagles a more tangible prize: a guaranteed first-round playoff game at home Tuesday, Nov. 1 against a to-be-determined opponent.
The Bulldogs (6-7, 3-2 CRC), played a much tighter game Tuesday on their home pitch than their last meeting with the Eagles (10-3, 5-0) Oct. 4, when HRV coasted to a 3-1 win. Haspela noted that his team had to "earn" this win and relied on good communication between players and an attack that kept pressuring despite a lack of success.
"It was a close game, which came down to which team had a more effective defense and which team could create a few good chances," he said. "The wind was in our faces in the first half — definitely a factor. We wanted to win our game against Hermiston with strong, composed defense and that's what we did. We will need to play complete games of team defense like this as we head into the playoffs."
Diaz finally broke Hermiston's stout backline in the 76th minute, winning a 50/50 ball and firing a shot from 18 yards out. Hermiston's keeper got a glove on it, but not enough.
As good as Hermiston's defense was, HRV's was better. Vanessa Silva only had to make two saves the entire game — one in each half — and stopped both Bulldog shots to record her fifth clean sheet of the season.
HRV will now turn its attention to The Dalles (5-8, 2-3) next week to achieve another goal: go undefeated in CRC play. This will be the final game of the regular season for HRV, who will host the Riverhawks Tuesday at 6:30 p.m. at Henderson Community Stadium.