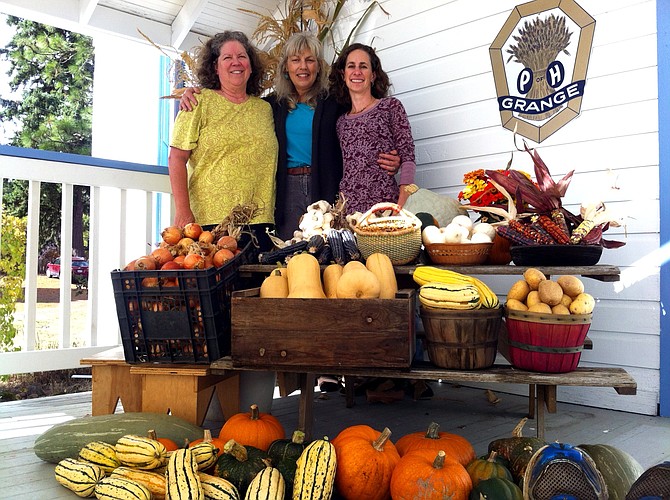 Last year's debut of the Fill Your Pantry market at Rockford Grange turned out better than organizers dared to hope.
"Our turnout last year was phenomenal — we had hoped the event would be popular, but as a new event, we weren't sure what to expect," said co-organizer Bonnie Cox. "We were blown away by the attendance last year."
For this year's market, held Nov. 5 from 2-6 p.m., organizers Linda Short, Aera Atkins, Becki Montgomery and Cox have adjusted vendor layout to make more room for shoppers, doubled parking monitor staff (visible in orange vests), and more than doubled volunteer staff to help on the day of the event.
Fill Your Pantry markets aren't a new concept, although this is just the second year the event has come to Hood River. The concept is simple: Bring a broad selection of storable food products, grown primarily in the Gorge, to one location to allow residents to stock up at the end of the growing season. Bulk purchases are encouraged, but not necessary.
This year's market, again hosted by Rockford Grange and co-sponsored by Gorge Grown Food Network and OSU Extension, will feature a wide variety of ready-to-store crops, preserved food and fresh produce ready to preserve at home. OSU Extension Master Food Preservers will be onsite to answer questions and demonstrate preservation techniques.
Cox was pleased to see that shoppers at last year's market came prepared to stock up — and that exit polls showed 79 percent of customers came from within 15 miles.
"Farmer vendors were also blown away by the turnout — we had a few get more produce sent from their farms during the market, and others sold out. There were many smiles from vendors at the end — tired but amazed at the support and enthusiasm shoppers had for their local products."
This year, vendors are planning for a large crowd and will be bringing more product, she said.
Organizers have several elements to this year's Fill Your Pantry market, including a greater variety of products harvested in the Gorge, more room for vendors (they'll be upstairs, downstairs and even outside), an overview map of vendor locations, and a table dedicated to emergency preparedness information, staffed by Barb Ayers, county emergency manager.
The list keeps growing, but items available will be potatoes, onions, garlic, root crops, winter squash, grains, beans, cornmeal, fruit and berries, meat, honey, cheese, dried herbs, dried mushrooms, granola, hot cereal blends, preserves, pickles, kraut, kombucha, teas and more. Fresh, canned, dried and frozen fruit options will available.
"We will have an even greater variety of products harvested in the Gorge … preserved products from local farms (and an) even greater diversity of fruit, vegetables and meat," Cox said.
Like last year, shoppers can also expect live bluegrass music, kids' activities, demos, and Grange-made soup and bread. Reusable Grange shopping bags will be available for purchase.
This year's Fill Your Pantry vendors include:
Big Barn Organics
The Withered Herb
Hot Lics Farm
Columbia Gorge Garlic
Fields Farm
Tamiyasu Orchard
Treebird Organics
One Breath Beverage
Saur Farming
Nature's Finest
Stepping Stone Farm
Cascadia Creamery
Good Medicine Enterprises
Fiddle Farms
Wildwood Farm
Kraus Honey Company
Oregon Brineworks
Bergins Organic Custom Seeds LLC
Sakura Ridge
Blue Skies Bakery
Mosier Grows!
Blue Bus Cultured Foods
Kelly Ranch
Jefferies Ranch
Tumbleweed Farm
Worth the Wait Foods
Columbia Mushroom Company